Results
1. Lynn Mackintosh – Scotia Bar
2. John Somers – Butchers Arms
3. Allan Kettles – Zoar Inn
4. Charles Woolley – Auctioneers
5. Steve Watson – Auctioneers
6. Deane Slessor – Granary
7. Bill Cowan – Red Lion
8. Richard Arnott – Imperial Bar
North Scotland's elite pub poker players entered the G Casino in Aberdeen with one goal in mind, to emulate Sean Eden's achievement this year of being the first player to join 2014's Vegas 100 club. Semi-final seats were also up for grabs which provides a second chance to the top performing players.
Despite two finalists from the Auctioneers, the Northern Bar took the team event trophy as they had three players who made the top 16. They were represented by Michael Paterson, Kenneth Clark, Ian Paterson and Arthur Andrejevs.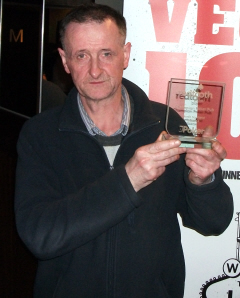 Final Table Chip Counts
64,000 Deane Slessor – Granary
57,000 Allan Kettles – Zoar Inn
45,000 Charles Woolley – Auctioneers
39,000 Ian Paterson – Northern Bar
39,000 James Ironside – Old Bank Bar
35,000 Richard Arnott – Imperial Bar
33,000 John Somers – Butchers Arms
32,000 Steve Watson – Auctioneers
20,000 Lynn Mackintosh – Scotia Bar
18,000 Bill Cowan – Red Lion
The final table got under way with Ian Paterson being eliminated first, therefore, unfortunately leaving empty ended. The next player out was James Ironside in 9th with a previous Las Vegas finalist Richard Arnott in 8th. 7th was long time Redtooth member Bill Cowan, Deane Slessor was 6th with Steve Watson 5th, Charles Woolley 4th and Allan Kettles 3rd. This left Lynn Mackintosh and John Somers to battle for the trip to Las Vegas. The final hand saw Flush over Flush with Lynn's As-Jd nearly finishing with a Royal Flush against John's 10d-4s. The final board ran out 3s-10s-Ks-Qs-7d to crown Lynn Mackintosh the latest North Scotland champion.