Results
1. Davie Marr – Old Brewery
2. Jeanette Campbell – Wintergills
3. Nick Wain – Fountain Bar
4. Damien O'Hara – IQue Cafe Bar
5. Ross McCartan – Wintergills
6. John Cochrane – Elphinstone Arms
7. Tommy Walker – Viking Bar
8. Greame Smith – IQue Cafe Bar
Sunday 26th May saw the first South Scotland final of the Redtooth Poker year where we would find another Vegas 100 member to accompany Lynn Mackintosh who qualified in Aberdeen the previous day. £500 would also be shared out along with the £1,000+ holiday for the lucky winner.
The day's first award went to the Gartocher in Glasgow in the form of the team event trophy. Willie Gifford, Jimmy McHale, John Sinclair and Scott Kirkbride will be proudly taking that back to the pub.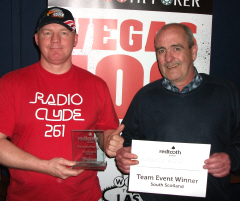 Final Table Chip Counts
66,000 Jeanette Campbell – Wintergills
63,600 Tommy Walker – Viking Bar
52,100 John Cochrane – Elphinstone Arms
25,100 Kenneth MacIvor – Macclures Bar
23,200 Davie Marr – Old Brewery
21,000 Ross McCartan – Wintergills
17,700 Damien O'Hara – IQue Cafe Bar
13,600 Nick Wain – Fountain Bar
13,300 Greame Smith – IQue Cafe Bar
9,100 Scott Kirkbride – Gartocher
A 10 player final table saw Jeanette Campbell lead the way as 'shuffle up 'n' deal' was announced. Kenneth MacIvor finished in 10th place with short stack Scott Kirkbride also unable to cash in 9th place. Greame Smith finished in 8th place with Tommy Walker 7th, John Cochrane 6th, Ross McCartan 5th, Damien O'Hara 4th and this year's Vegas 100 member Nick Wain unable to re-qualify in 3rd place. Jeanette and Davie were left to battle for pub pokers biggest ever regional prize, a trip to Las Vegas in 2014. The final hand has to go down as one of the biggest 'coolers' in poker heads-up history as amazingly Davie tabled K-K to Jeanette's Q-Q. The Q-K-10 flop was even more incredible as Jeanette was left with just 1 out. A turn and river of 5-2 sealed the win for Davie Marr who is now the latest South Scotland regional champion.