Results
1. Geoff Coy – Mackworth Hotel
2. James Kane – Oadby Owl
3. Craig Dowsett – Muddle Go Nowhere
4. Sarah Bates – Sir John Cockle
5. Paul Topham – Willow Tree
6. Phil Burford – Nugget
7. Jayne Cutten – Burton Arms
8. Shaun Wood – Sun Inn
The Alea Casino in Nottingham saw a fantastic turnout as Vegas 100 fever well and truely hit the pub poker scene. This final amazingly saw six of this year's Vegas 100 East Midlands members return for another go at qualifying for next year. Many prizes were up for grabs so lets see who won what…
The team event had a 2nd time winner in the Mundy Arms in Heanor. They were well represented with 3 top 30 finishers by Jonathan Burrell, Paul Harrison and this year's Vegas 100 member Annmarie Winter. John Berkin also represented the champion pub.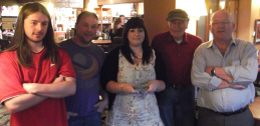 Final Table Chip Counts
170,000 Paul Topham – Willow Tree
156,000 Shaun Wood – Sun Inn
148,000 Geoff Coy – Mackworth Hotel
117,000 James Kane – Oadby Owl
107,000 Phil Burford – Nugget
71,000 Craig Dowsett – Muddle Go Nowhere
69,000 Stephen Burbage – Old Vicarage
42,000 Jayne Cutten – Burton Arms
21,000 Sarah Bates – Sir John Cockle
A tense 9 player final meant one unlucky player would miss out on the cash prizes and national final seats. Stephen Burbage, one of the shorter stacks finally hit the rail after 30 minutes of bubble play. Shaun Wood, who was just delighted at winning a national final seat and his bus fare home exited in 8th place. Shaun was soon followed by Jayne Cutten in 7th, Phil Burford in 6th, Paul Topham in 5th and Sarah Bates in 4th. The deciding hand really came when 3 handed as the two big stacks Geoff Coy (J-J) and last year's Vegas 100 member Craig Dowsett (A-K) went head to head. Fortunately for Geoff his Jacks held up to eliminate Craig in 3rd place and soon finished off extremely short stacked James Kane to become the new East Midlands regional champion.