Results
1. Michael Barnes – Rushden WMC
2. Jason Gibbs – Cricketers
3. Andrew Winbourne – Royal Oak
4. Jeff Bond – New Club
5. Clive Young – Queens Head
6. Charles Asbridge – White Horse
7. Andy Moores – New Club
8. Tim Osborn – White Horse
Our Central England final, which was held on a Saturday, would find our third Vegas 100 member for next year's trip. £500 was awarded to the top finishers along with glass trophies and national final seats.
The first glass trophy to be awarded was the team event. This was won at a canter by the White Horse in Oxford (pun intended!) as they had 2 finalists in Tim Osborn and Charles Asbridge with Dean Clarkin just missing out on a hat-trick of finalists in 13th place. John Hudgell also represented the winning venue.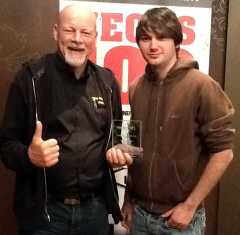 Final Table Chip Counts
192,000 Jeff Bond – New Club
154,000 Andrew Winbourne – Royal Oak
132,000 Michael Barnes – Rushden WMC
100,000 Charles Asbridge – White Horse
37,000 Del Durling – Collingtree
36,000 Andy Moores – New Club
34,000 Tim Osborn – White Horse
34,000 Ian Handsford – Haywain
34,000 Clive Young – Queens Head
16,000 Jason Gibbs – Cricketers
The final table saw a group with a lot of chips and a group with not a lot of chips! Unsurprisingly the first four players out were from the group with not a lot of chips as Ian Hansford was 10th, Del Durling 9th, Tim Osborn 8th and Andy Moores 7th. Charles Asbridge hit the rail in 6th with Clive Young 5th, Jeff Bond 4th and Andrew Winbourne 3rd. Heads-up saw short stack Jason Gibbs attempt to complete an heroic final by defeating Michael Barnes. Unfortunately for Jason his Qs-Js was up against Kc-5c and with a board of 5h-7c-Ac-6c-4c Michael's flush was way too strong as he became the new Central England poker champion.