Results
1. Karl Smith – Tividale Football Club
2. Paul Lacey – Talbot
3. Alan Locke – Woodman
4. Richard Clarke – Bulls Head
5. Peter Spackman – Ye Olde Reindeer
6. Glen Gaines – March Hare
7. John Jackson – Blackpole Inn
8. Andrew Oliver – Jaspers
Our West Midlands One final kicked off on time as nearly 200 players (amazingly only half of that region!) aimed for the top prize, a trip to Las Vegas. A share of £500 was also up for grabs along with eight national final seats.
The Yardley Arms in Birmingham, Redtooth Poker members since 2009, won the team event for the first time with three top 20 finishers in Graham Gorton, Neil Clive and Andrew Charlesworth. League champion Craig Wright was their fourth representative.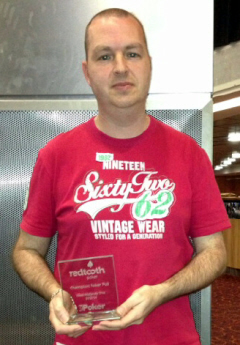 Final Table Chip Counts
192,000 Dan Rock – Swan
186,000 Richard Clarke – Bulls Head
180,000 Alan Locke – Woodman
102,000 Andrew Oliver – Jaspers
86,000 Paul Lacey – Talbot
80,000 Peter Spackman – Ye Olde Reindeer
56,000 John Jackson – Blackpole Inn
52,000 Karl Smith – Tividale Football Club
36,000 Glen Gaines – March Hare
12,000 Simon Cross – Viaduct Tavern
This 10 player final surprisingly saw the big stack, Dan Rock, eliminated first in 10th place (an achievement in itself!). Short stack Simon Cross didn't last much longer as he hit the rail in 9th place. Andrew Oliver finished in 8th place with John Jackson 7th, Glen Gaines 6th, Peter Spackman 5th, Richard Clarke 4th and Alan Locke 3rd. Heads-up had Karl Smith and Paul Lacey battle for the day's top prize. The final hand saw Karl's 10-8 go up against Paul's 5-4 and when both hands missed a 9-2-7-Q-2 board, Karl was confirmed as the West Midlands One regional final champion. Congratulations!