Results
1. Jonathan Turns – Duke of Cornwall
2. Tom Hampton – Tyacks Hotel
3. Gareth Coleman – Edgcumbe Hotel
4. Paul Stevens – Ship Inn
5. Brett Didwell – Brendon Arms
6. Mark Haslam – Chaddlewood Inn
7. Jon Whale – Hunting Lodge
8. Kevin McShane – Chaddlewood Inn
Our South West regional final produced another Vegas 100 member as players from Plymouth and surrounding areas flocked into the Grosvenor in Plymouth. With excellent prizes up for grabs it was certain to be a fantastic day.
The first prize of the day went to long time Redtooth members the Chaddlewood Inn in Plymouth in the form of the team event trophy. They had two finalists in Kevin McShane and this year's Vegas 100 member Mark Haslam. Emma Walker and Simon Jones also contributed to the victory.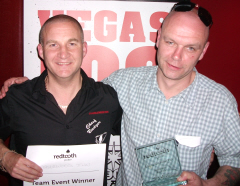 Final Table Chip Counts
82,000 Tom Hampton – Tyacks Hotel
51,000 Mark Haslam – Chaddlewood Inn
45,000 Kevin McShane – Chaddlewood Inn
40,000 Brett Didwell – Brendon Arms
40,000 Jonathan Turns – Duke of Cornwall
40,000 Jon Whale – Hunting Lodge
28,000 Gareth Coleman – Edgcumbe Hotel
15,000 James Graham – Tamar
12,000 Paul Stevens – Ship Inn
4,000 Rory Cowell – Rashleigh Arms
A 10 player final table saw short stack Rory Cowell exit first in 10th place. James Graham went in 9th and was shortly followed by Kevin McShane (8th), Jon Whale (7th), Mark Haslam (6th), Brett Didwell (5th), Paul Stevens (4th) and Gareth Coleman (3rd). The heads-up encounter was between Tom Hampton and Jonathan Tuns with a much sought after Las Vegas trip up for grabs. The final hand saw the poker gods shine on Jonathan Turns as his Q-4 got the better of Tom's 5-5 on a 10-Q-A-2-9 board. Congratulations everyone!