Results
1. Adam Hinchliffe – Fox & Goose
2. Gary Blamire – Beaumont Arms
3. James Stratton – Oxfford
4. James Ashworth – Finger Post
5. Andy Cairns – Lord Nelson
6. Anthony Thomas – Brocklehurst Arms
7. Jodie Oakes – Red Lion
8. David Smith – Royal
The Grosvenor Casino in Manchester hosted our North West One regional final for the first time in their brand new and very impressive card room. A trip to Vegas for Vegas 100 would be awarded to the winner along with a share of £500 and the excellent trophies on offer.
Our first award went to the Beaumont Arms in Bolton who just pipped the noisy Red Herring in Coppull to the team event trophy. The Beaumont Arms were represented by the day's runner-up Gary Blamire, Simon Gugniewicz, Sean Ridsdale and Daniel Long.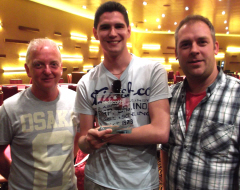 Final Table Chip Counts
148,000 Adam Hinchliffe – Fox & Goose
97,000 Gary Blamire – Beaumont Arms
79,000 James Stratton – Oxfford
76,000 Mick Harwood – Guild
44,000 James Ashworth – Finger Post
42,000 Andy Cairns – Lord Nelson
37,000 Anthony Thomas – Brocklehurst Arms
30,000 Jodie Oakes – Red Lion
22,000 David Smith – Royal
18,000 Marie Hunter – Heskeths Arms
An excited 10 player final table took their seats with youngster Adam Hinchliffe leading the way. Not far behind Adam was defending champion and this year's Vegas 100 member James Stratton. In a final table that went very much to form saw short stack Marie Hunter exit first in 10th place with Mick Harwood in 9th, David Smith 8th, Jodie Oakes 7th, Anthony Thomas 6th, Andy Cairns 5th and James Ashworth in 4th. Three handed saw the three big stacks at the start battle for the one Vegas 100 trip. A long three handed battle saw the final finish in 2 hands. 3rd place was defending champion James Stratton who had his fair share of misfortune and then one hand later we had a winner as Adam tabled A-6 to Gary's K-6. A final board of 2-7-10-9-Q gave Adam Hinchliffe the victory and is the first North West Vegas 100 qualifier.