Results
1. Hayley Ratcliffe – Griffin
2. Omar Wilson – Albion
3. David Fletcher – Robin Hood
4. Wayne Gibson – Myton House Farm
5. Ian McKay – New Crown
6. Paul Saunders – Wellington
7. John Briston – Three Horseshoes
8. Ronnie Savory – Magnesia Bank
Cash prizes, glass trophies and a Vegas trip were on the cards for the top performers in this North East regional final at the Genting Casino in Newcastle. Who would be the first North East Vegas 100 member?
The team event trophy went to the Wellington in Billingham. Chris Rudd, Eileen Guthrie, Paul Saunders and Paul Jones will be taking back a crystal glass trophy.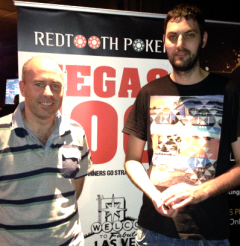 Final Table Chip Counts
145,000 David Fletcher – Robin Hood
120,000 Paul Saunders – Wellington
115,000 Wayne Gibson – Myton House Farm
109,000 Omar Wilson – Albion
79,000 John Briston – Three Horseshoes
76,000 Hayley Ratcliffe – Griffin
55,000 Ian McKay – New Crown
43,000 Ronnie Savory – Magnesia Bank
22,000 Terry Telford – Peregrine
2,000 Craig Crackett – Last Orders
There was no comeback for Craig Crackett who started the final with only 2,000 in chips. Craig exited in 10th place just missing out on the day's prizes. The next elimination saw Terry Telford exit in 9th place and he was soon followed by Ronnie Savory in 8th, John Briston 7th, Paul Saunders 6th, Ian McKay 5th, Wayne Gibson 4th and David Fletcher in 3rd. After around 8 hours of play we were left with Hayley Ratcliffe and Omar Wilson with a trip of a lifetime up for grabs. The final hand was a bit of a 'cooler' for Omar as his 8-8 was up against Hayley's K-K. A board of 9-A-2-A-K was of no help to Omar as Hayley Ratcliffe became the new North East regional final champion.