Results
1. Chanya Sri-Aran – Victory Pub
2. Andrew Gee – Black Horse
3. Scott Connell – Salts House Tavern
4. Ray Bartram – Barley Mow
5. Geoff Blunn – Fair Maid
6. Lee Vause – Three Horses
7. Graham Brandreth – Riverside Farm
8. Alan White – Malt Shovel
The Grosvenor in Leeds welcomed 200 Redtooth Poker members for the latest West Yorkshire regional final. One lucky person would emulate what 4 others did last year and win a trip to Las Vegas from this final.
The team event winners, the West End in Cleckheaton, included a previous regional champion in Andrew Carr. Chris Jackson, Jonathan Bowman and David Taylor also represented the venue.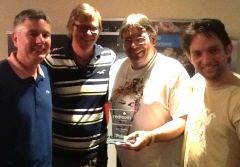 Final Table Chip Counts
210,000 Scott Connell – Salts House Tavern
104,000 Alan White – Malt Shovel
90,000 Ray Bartram – Barley Mow
86,000 Tim Walker – Commercial
82,000 Andrew Gee – Black Horse
81,000 Chanya Sri-Aran – Victory Pub
79,000 David Taylor – West End
71,000 Lee Vause – Three Horses
38,000 Geoff Blunn – Fair Maid
35,000 Graham Brandreth – Riverside Farm
The 10 player final saw the return of 'Last Table, Las Vegas' member Andrew Gee, hoping to be the first player to qualify for a second Redtooth Poker Las Vegas trip. The first player out was Tim Walker in 10th place and Tim was soon followed by David Taylor (9th), Alan White (8th), Graham Brandreth (7th), Lee Vause (6th), Geoff Blunn (5th), Ray Bartram (4th) and Scott Connell (3rd). Scott's elimination meant Andrew Gee and Chanya Sri-Aran could battle for the Vegas trip. The final hand saw Andrew get his chips in the middle in bad shape as he tabled K-10 to Chanya's K-J. A board of Q-Q-8-A-3 sealed the deal for Chanya who will now be joining us in Vegas next year!