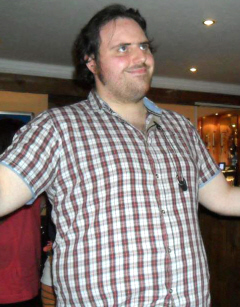 Results
1. Richard Arnott – Imperial Bar
2. Greg Shiels – Northern Bar
3. Ian Paterson – Mither Tap
4. Bob Nicholson – Ceres Inn
5. David Robertson – Mither Tap
6. Gordon Cuthill – Imperial Bar
7. Stewart Treagus – Kitty Brewster
8. Garry Tyronney – Dow's
As always, Aberdeen kicked off another round of regional finals as more Las Vegas holidays would be awarded over a three week period. 18 in fact! The well run G Casino in Aberdeen was the venue where £500 was also shared amongst the top finishers with National Final seats given away too.
The first team event of the season came down to a battle of 2 venues, the Mither Tap in Aberdeen and the Imperial Bar in Cupar. Both venues had an excellent day with two finalists each, however, the trophy eventually went to the Mither Tap in Aberdeen. Congratulations to Brian Derrett, Ian Paterson, David Robertson and Gus Tawse.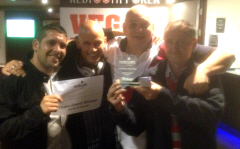 Final Table Chip Counts
77,000 Bob Nicholson – Ceres Inn
76,500 Stewart Treagus – Kitty Brewster
54,000 Gordon Cuthill – Imperial Bar
35,500 Richard Arnott – Imperial Bar
32,000 Garry Tyronney – Dow's
29,000 David Robertson – Mither Tap
27,000 Greg Shiels – Northern Bar
26,000 Ian Paterson – Mither Tap
8,500 George Robertson – Red Lion
7,500 Fiona Mackintosh – Zoar Inn
With Bob Nicholson leading the final, he was the likely favourite to take the crown. The two short stacks were the first two players to exit the final with Fiona Mackintosh 10th and George Robertson 9th. This brought us into the money with Garry Tyronney in 8th, Stewart Treagus in 7th, Gordon Cuthill 6th, David Robertson 5th, Bob Nicholson 4th and Ian Paterson 3rd. This left Greg Shiels and Richard Arnott to contest the Vegas trip. The final hand saw the best hand hold up as Richard's Q-9 matched up against Greg's 7-5. The final board of the day ran off Q-5-6-6-9 to crown Richard Arnott the North Scotland champion for a second time!