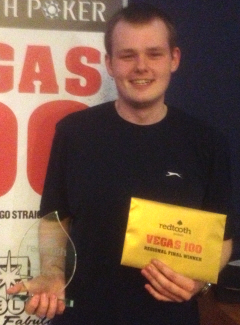 Results
1. Craig McLuckie – Old Brewery
2. Gabor Berecz – Schiehallion
3. Marie Bain – Wintergills
4. John Thomson – Barrachnie Inn
5. Fraser Baird – Old Racecourse Hotel
6. Matyas Horvath – Schiehallion
7. Brian Fulton – Loanhead Miners
8. David Currie – Loanhead Miners
After a successful opener to the Redtooth Poker Tour, Redtooth were back in Glasgow. This time for the latest South Scotland regional final where another Vegas trip would be awarded to the day's winner.
The first trophy awarded was the team trophy and this went to first time winners, the Old Racecourse Hotel in Ayr. They were represented by John Copland, Andrew Maitland, Fraser Baird and Callum McNab.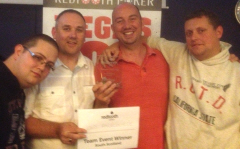 Final Table Chip Counts
81,000 Matyas Horvath – Schiehallion
46,500 Craig McLuckie – Old Brewery
35,000 Marie Bain – Wintergills
34,500 John Thomson – Barrachnie Inn
27,000 Fraser Baird – Old Racecourse Hotel
23,000 Darren Young – Pyramid Snooker Club
14,500 Brian Fulton – Loanhead Miners
13,500 Gabor Berecz – Schiehallion
12,500 Brian Phillips – Barrachnie Inn
10,500 David Currie – Loanhead Miners
A 10 player final all had Vegas on their mind as Matyas Horvath started in pole position. Two players would still leave empty handed unfortunately, these were Brian Phillips in 10th place and Darren Young in 9th. With the remaining 8 in the money the tension eased slightly as David Currie hit the rail in 8th place to be followed by Brian Fulton 7th, Matyas Horvath 6th, Fraser Baird 5th, John Thomson 4th and Marie Bain 3rd. Gabor Berecz was left to battle with Craig McLuckie, who probably has one of the best poker surnames! It proved lucky by name, lucky by nature as the final hand saw Craig win a flip as his 3-3 matched up against Gabor's A-10. The final board ran out 6-8-J-7-K to crown Craig McLuckie the new South Scotland champion! I wonder if Craig will get McLuckie in Vegas!