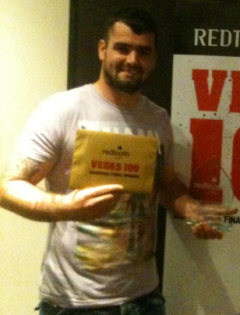 Results
1. Ryan Marshall – Pentwyn Arms
2. Joe Williams – Black Lion
3. Chris Crompton – Glenbrook Inn
4. Bob Gillan – Birchgrove
5. Gavin Perry – Glenbrook Inn
6. Dan Burdge – Gower Hotel
7. Alan Lazenby – Pentwyn Arms
8. Paul Cox – Hollybush
The Grosvenor in Cardiff once again hosted our Welsh finals. First up was Wales One which concentrates mainly around the Cardiff area. The usual excellent prizes were all up for grabs once again, backed up by an excellent turnout!
The Glenbrook Inn in Barry won a well contested team event. Their participants were Gavin Perry, Genine Taylor, Chris Crompton and Andy Buckland.
Final Table Chip Counts
92,000 Bob Gillan – Birchgrove
51,000 Ryan Marshall – Pentwyn Arms
40,000 Gavin Perry – Glenbrook Inn
37,000 Chris Crompton – Glenbrook Inn
33,000 Joe Williams – Black Lion
25,000 Dan Burdge – Gower Hotel
19,000 Alan Lazenby – Pentwyn Arms
17,000 Alex Lacey – Black Lion
7,000 Paul Cox – Hollybush
A 9 player final meant one player would leave empty handed. The unfortunate player was Alex Lacey on this occasion, unlucky Alex! Paul Cox soon followed Alex in 8th with Alan Lazenby not far behind in 7th. Dan Burdge finished in 6th place with Gavin Perry 5th, Bob Gillan 4th and Chris Crompton 3rd. The Vegas trip was left to Joe Williams and Ryan Marshall to contest. The tournament came to an abrupt end when Ryan looked down at A-J and Joe Q-9. An all-in and a call had Joe at risk and in need of help from the poker gods. A board of 2-8-7-5-7 ensured Ryan's hand held to crown him the latest Wales One champion. Congratulations!