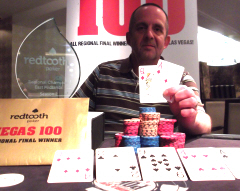 Results
1. David Harris – Boot & Shoe
2. Dave Fargher – Castle Barge
3. Barry Beaumont – Cross Keys
4. Mark Searle – Cherry Tree
5. Ben Farrow – Halcyon
6. Akbar Ghani – Halcyon
7. Martyn Pritchard – Sneyd Arms
8. Daniel Barker – Ravensdale Hotel
The Alea Casino in Nottingham welcomed many of our East Midlands members new and old as the regions finest locked horns to unearth another member of the Vegas 100 trip.
The team event saw history made as a long two way battle between the Hope & Anchor in Wirksworth and the current team event holders the Mundy Arms in Heanor ensued. Eventually the Mundy Arms prevailed to defend their trophy and claim their THIRD team event title in total with all 4 players finishing inside the top 40. With 3 team event trophies and 1 individual trophy, the Mundy Arms are arguably the most successful venue in Redtooth Poker history. Congratulations this time go to Adam Fairfield, Mark Burrell, John Berkin and Paul Harrison.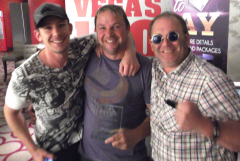 Final Table Chip Counts
139,000 Barry Beaumont – Cross Keys
139,000 Dave Fargher – Castle Barge
94,000 Martyn Pritchard – Sneyd Arms
74,000 Ben Farrow – Halcyon
72,000 David Harris – Boot & Shoe
68,000 Mark Searle – Cherry Tree
54,000 Daniel Barker – Ravensdale Hotel
43,000 Akbar Ghani – Halcyon
36,000 Callum Evans – Fox & Crown
A lengthy 9 player final lasted around the 2 hour mark. Callum Evans was the first player to be eliminated in 9th place, bubbling the cash and the national final seats. Daniel Barker finished in 8th place with Martyn Pritchard in 7th, Akbar Ghani in 6th, Ben Farrow in 5th, Mark Searle in 4th and Barry Beaumont in 3rd. The heads-up match saw Dave Fargher against David Harris as they played for the trip and £200 in cash. With Dave relinquishing a huge chip lead, he was soon left with less than 1BB so had no choice but to go all-in with 7-3 with David tabling a monster in A-Q. The board ran out 4-2-9-A-4 to crown David Harris the new East Midlands Redtooth Poker champion.