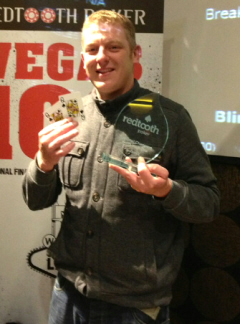 Results
1. Gareth Tomlinson – Trimpell Sports & Social Club
2. Marie Cunliffe – Heskeths Arms
3. Finley Doyle – Butchers Arms
4. Rick Makin – George VI
5. Daniel Bluer – Moorfield
6. Tony Martindale – Fox & Goose
7. Greg Heaton – George VI
8. Craig Barlow – Lane Ends
The excellent Grosvenor Casino in Manchester hosted our North West One final for a second time. A near record turnout in Manchester all sat down to find another member of Vegas 100. Cash prizes and national final seats were also awarded.
The team event was won by the Guild in Preston which was a fantastic achievement with only having 3 representatives. A big pat on the back goes to Gary Pond, Mike Gregory and Paul Robertson.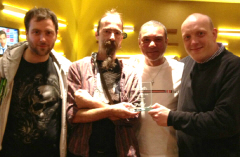 Final Table Chip Counts
159,000 Gareth Tomlinson – Trimpell Sports & Social Club
116,000 Marie Cunliffe – Heskeths Arms
99,000 Finley Doyle – Butchers Arms
81,000 Rick Makin – George VI
60,000 Greg Heaton – George VI
54,000 Tony Martindale – Fox & Goose
50,000 Daniel Bluer – Moorfield
49,000 Craig Barlow – Lane Ends
38,000 Mike Gregory – Guild
With Gareth Tomlinson holding a healthy chip lead he was going to take some stopping in this 9 player final. Short stack Mike Gregory was the first player eliminated in 9th place and was soon followed by Craig Barlow in 8th, Greg Heaton 7th, Tony Martindale 6th, Daniel Bluer 5th, Rick Makin 4th and Finley Doyle 3rd. This left the two big stacks at the start to battle for the two remaining prizes. The final hand was nothing but a 'cooler' for Marie as her A-9 was up against Gareth's Q-Q. With Marie at risk, a lot of help was needed from the poker gods. The final board ran off 10-9-2-3-J to crown Gareth our new North West One champion!