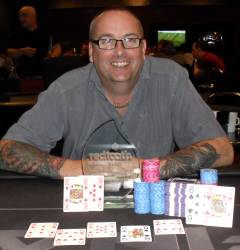 Results
1. Bill Perry – Wheatsheaf
2. Ross Chapman – Top of the World
3. Daniel Woodthorpe – White Lion
4. Dave Hitchman – Fox & Duck
5. Russell Nairne – Midland Hotel
6. Alex Davis – Brave Old Oak
7. Marjorie Osbourne – Queens Head
8. Jason Gibbs – Cricketers
Our Central England final was played out at the Aspers Casino in Northampton where a lot of prizes were awarded on the day. Who would win the trip to Vegas? Who would win a cash prize? Who would win a National Final seat? Who would win the team trophy?
Well the team event trophy went to the Midland Hotel in Hemel Hempstead who were represented by Bob Keith, Warren Rochford, Philip Pettifer and Matt Bleasdale.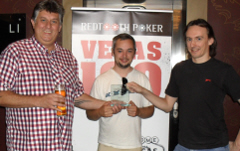 Final Table Chip Counts
180,000 Ross Chapman – Top of the World
163,000 Dave Hitchman – Fox & Duck
119,000 Alex Davis – Brave Old Oak
92,000 Bill Perry – Wheatsheaf
60,000 Hannah Quinn – Kennington Sports
56,000 Dave Humphries – White Lion
41,000 Daniel Woodthorpe – White Lion
39,000 Marjorie Osbourne – Queens Head
15,000 Russell Nairne – Midland Hotel
14,000 Jason Gibbs – Cricketers
A 10 player final consisted of a previous Vegas 100 member in Daniel Woodthorpe, however, Daniel started the final with a short stack of 41,000 chips. Ross Chapman led the way with 180,000 in chips. The first player eliminated was Hannah Quinn in 10th position with Dave Humphries being the bubble boy in 9th place. Jason Gibbs was the first cash prize winner in 8th place and he was joined by Marjorie Osbourne 7th, Alex Davis 6th, Russell Nairne 5th, Dave Hitchman 4th, and Daniel Woodthorpe 3rd. The heads-up match saw Bill Perry overcome Ross Chapman to be crowned the new Central England champion. Congratulations to all winners.