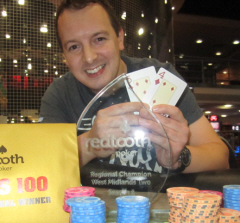 Results
1. James Fairbotham – Masons Arms
2. Chris Price – Hilly House
3. Michael Edmunds – Crown
4. John Dolphin – Old Lion
5. Carl Young – Rose & Crown
6. Shaun Blackshaw – Smithy's Forge
7. Mohan Chauhan – Rileys
8. Matthew Takaro – Drakes Drum
The Genting Casino in Birmingham hosted our West Midlands Two final which saw a massive 208 players (97% attendance) sit down to battle for the Vegas 100 trip. Glass trophies and cash prizes were also awarded along with UK National Final seats.
The first prize to be awarded was the team event trophy which was won by Rileys in Moseley. Richard Carter, Mohan Chauhan, John Rawlinson and Matthew Wellington represented the venue.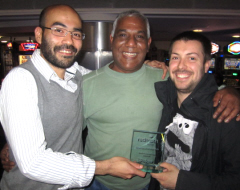 Final Table Chip Counts
379,000 Michael Edmunds – Crown
154,000 James Fairbotham – Masons Arms
153,000 Carl Young – Rose & Crown
64,000 John Dolphin – Old Lion
62,000 Mohan Chauhan – Rileys
60,000 Shaun Blackshaw – Smithy's Forge
59,000 Matthew Takaro – Drakes Drum
52,000 Chris Price – Hilly House
48,000 Ricky Kelly – Tennis Courts
A 9 player final had 3 players dominating the chip stacks with Michael Edmunds leading the way. The first player out was short stack Ricky Kelly in 9th place which burst the cash prize bubble. Matthew Takaro was the next player out in 8th place with Mohan Chauhan 7th, Shaun Blackshaw 6th, Carl Young 5th, John Dolphin 4th and Michael Edmunds 3rd. Michael's elimination left James and Chris to play heads-up for the day's top prize. The final hand saw Chris Price in an unfortunate situation as his Q-J was out flopped by James's 4-5 on a 4-5-Q flop. A meaningless 7-9 turn & river was of no help to Chris as James Fairbotham was crowned the new West Midlands Two regional champion. See you in Vegas!