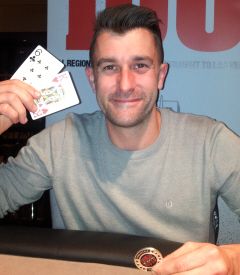 Results
1. Mark Wignell – Mosborough Miners Welfare
2. Stephen Ballans – Imperial Club
3. Jason Sykes – Stocks
4. Steven Morement – Thorncliffe Arms
5. Mark Williams – Alpine
6. Andrew Maxwell – Ashley Hotel
7. Matt Langley – Horse & Jockey
8. Tim Wright – Urban Bar & Lounge
Genting's flagship casino in Sheffield hosted the South Yorkshire regional final that would see one lucky Redtooth Poker member win a trip to Las Vegas with a handful returning in a few weeks time for our National Final. £500 would also be given away along with two crystal glass trophies.
As always the first award was the team trophy which was won by the Crosspool Tavern in Sheffield. David Shepherd, Paul Fathers, Tim Grindley and Les Curtis put in 4 great performances.
Final Table Chip Counts
189,000 Mark Wignell – Mosborough Miners Welfare
165,000 Matt Langley – Horse & Jockey
129,000 Jason Sykes – Stocks
83,000 John Verhaert – Hammer & Pincers
76,000 Tim Wright – Urban Bar & Lounge
66,000 Mark Williams – Alpine
53,000 Steven Morement – Thorncliffe Arms
51,000 Stephen Ballans – Imperial Club
40,000 Andrew Maxwell – Ashley Hotel
39,000 Leam James – South Hiendley Recreation Club
The final 10 players all took their seat with the top prize in mind, Mark Wignell led the way with 189,000 in chips. The Vegas dream was soon over for Leam James, John Verhaert and Tim Wright as they finished in 10th, 9th & 8th place respectively. Matt Langley finished in 7th position with Andrew Maxwell 6th, Mark Williams 5th, Steven Morement 4th and Jason Sykes 3rd. Big stack Mark Wignell was left to contest the heads-up encounter against Stephen Ballans. The tournament came to an end when Mark Wignell went all-in with K-6 with Stephen holding J-9. A final board of 2-10-Q-3-10 was enough for Mark Wignell to be crowned the new South Yorkshire regional champion.