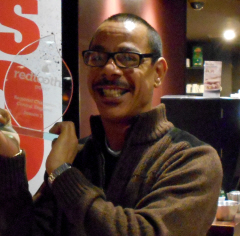 Results
1. Andy Salisbury-Newman – Stags Head
2. Andy Moss – Queens Head
3. Colin Strickle – Fenman
4. David Callen – Collingtree
5. Richard Harvey – Blackberry Jack
6. Janette Murphy – Monkfield Arms
7. Graham Rayner – Tudor Rose
8. James Otterson – Greengage
Our new Central England regional final venue, the G Casino in Luton welcomed our Redtooth Poker members where a trip to Vegas was awarded to the day's winner. The usual additional prizes of £500 cash and two trophies where also awarded.
The first trophy awarded was the team event which was won by the Monkfield Arms in Great Cambourne. Their charge was spearheaded by Janette Murphy who made the day's final along with Fred Je, Gerald Fegan & Paolo Puddu.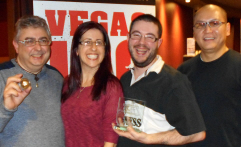 Final Table Chip Counts
162,000 Andy Salisbury-Newman – Stags Head
156,000 Richard Harvey – Blackberry Jack
127,000 Colin Strickle – Fenman
82,000 Graham Rayner – Tudor Rose
80,000 David Callen – Collingtree
70,000 Andy Moss – Queens Head
60,000 Steve O'Reilly – Rushden Working Mens Club
46,000 James Otterson – Greengage
33,000 Janette Murphy – Monkfield Arms
16,000 Warren Rochford – Midland Hotel
The final started with Andy Salisbury-Newman leading the way with 162,000 in chips while Warren Rochford was struggling along with only 16,000 in chips. The first player out, however, was Steve O'Reilly and Steve was soon to be followed by Warren Rochford in 9th, James Otterson in 8th, Graham Rayner in 7th, Janette Murphy in 6th, Richard Harvey in 5th, David Callen in 4th and Colin Stickle in 3rd. Our heads-up encounter was between the dominant Andy Salisbury-Newman and Andy Moss. With the final hand seeing Moss at risk, Salisbury-Newman finished the job when his A-10 beat Moss's Q-8 on a 5-3-J-7-2 board. Congratulations Andy!