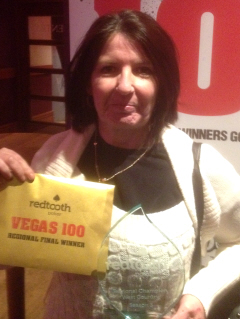 Results
1. Tracey Thornton – Pike & Musket
2. Sam Pearson – Tavern
3. Matt Davis – Turmut Hoer
4. Rachel De Grey – National Hunt
5. Adam Gough – Royal Oak
6. Dan Caruso – Baileys Court Inn
7. Errol Johnson – Nine Elms
8. Paresh Aggarwal – Greengage
Bristol's Grosvenor Casino welcomed our West Country members as over 100 people sat down to battle for a trip to Las Vegas, a share of £500 and one of two glass trophies on offer throughout the day.
The team event was won at a canter by the Tavern in Melksham. They were represented by Luke Thompson, Andrew Lewis, James Wright and finalist Sam Pearson.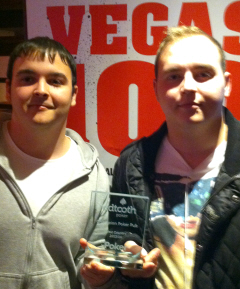 Final Table Chip Counts
171,000 Errol Johnson – Nine Elms
79,000 Sam Pearson – Tavern
70,000 Rachel De Grey – National Hunt
53,000 Dan Caruso – Baileys Court Inn
48,000 Matt Davis – Turmut Hoer
34,000 Paresh Aggarwal – Greengage
32,000 Adam Gough – Royal Oak
28,000 Tracey Thornton – Pike & Musket
19,000 Maz Maszlag – Royal Oak
15,000 Paul Barnett – Foresters Arms
Errol Johnson started the final with a huge stack but didn't make much progress with it as he busted in 7th place just after Matt Maszlag in 10th, Paul Barnett 9th & Paresh Aggarwal 8th. Dan Caruso finished in 6th with Adam Gough 5th, Rachel De Grey 4th & Matt Davis 3rd. Sam Pearson and Tracey Thornton contested the heads-up match for the Vegas trip. The final hand saw two monsters dealt as Sam's A-J was up against Tracey's K-K with Sam at risk. The final board was of no help to Sam as a 5-8-Q-4-4 hit the deck to crown Tracey Thornton the new West Country champion.