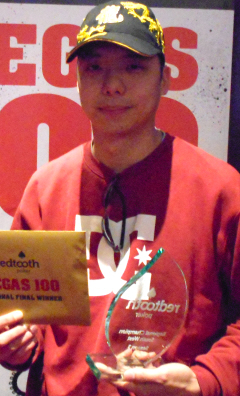 Results
1. Andrew Hiew – Sloop Inn
2. Cliff Paddon – Bell Inn
3. Phillip Wreford – Farmhouse
4. Michelle Nicholas – Threemilestone Social Club
5. Simon Jones – Tamar
6. Peter Plews – Brendon Arms
7. Gary Newcombe – Hunting Lodge
8. Stewart Watters – Royal Inn
The South West's finest all got together at the Grosvenor in Plymouth to battle it out for a trip to a poker players paradise, along with 2 glass trophies and £500 cash.
The team event was a tight encounter between two venues, the Bell Inn in Bovey Tracey and the Ship Inn in Paignton with both venues supplying a finalist. The winner, however, was the Bell Inn who were represented by Cliff Paddon, James Peace, Chris Peace & Toby Hoare.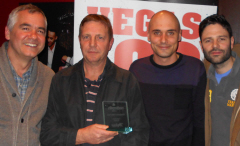 Final Table Chip Counts
64,000 Michelle Nicholas – Threemilestone Social Club
49,000 Simon Jones – Tamar
46,000 Andrew Hiew – Sloop Inn
36,000 Stewart Watters – Royal Inn
33,000 Peter Plews – Brendon Arms
32,000 Gary Newcombe – Hunting Lodge
22,000 Brian McVey – Bunters Sports Bar
17,000 Peter Lewis – Ship Inn
16,000 Cliff Paddon – Bell Inn
16,000 Phillip Wreford – Farmhouse
Our South West final saw two big comebacks from the short stacks Cliff Paddon & Phillip Wreford, both starting with only 16,000. The first player out in 10th place was Brian McVey and he was soon followed by Peter Lewis in 9th, Stewart Watters 8th, Gary Newcombe 7th, Peter Plews 6th, Simon Jones 5th, Michelle Nicholas 4th and Phillip Wreford 3rd. Our heads-up encounter was between Andrew Hiew and Cliff Paddon with a trip to Vegas in both players' sites. The final hand had Cliff at risk with 7-4 to Andrew's A-5 and with a board of K-J-A-9-A there was no doubt who had the winning hand as Andrew Hiew became the new South West champion.