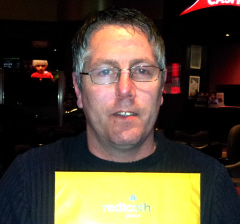 Results
1. Paul Wilkes – Woolpack
2. Karl Wenlock – Jaspers
3. Ray Whitehead – Swan
4. Jamie Delo – Cuckoo Oak
5. Terry Dawson – Potters Bar
6. Stephen Groves – Peaches
7. Ryan Vaughan – Merry Boys
8. Jordan Ruff – Queslett
Our West Midlands One final had a new home as it was moved further north to the Grosvenor in Walsall. The final saw an earlier than usual start as nearly 200 players geared up for battle.
The first trophy of the day was the team event trophy which was claimed by the Potters Bar in Stoke-on-Trent. They were well represented by Terry Dawson, Russell Grocott, Joe Busfield & Lewis Buckler.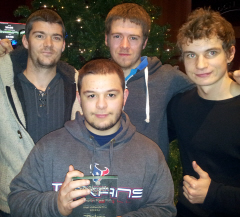 Final Table Chip Counts
196,000 Ray Whitehead – Swan
148,000 Karl Wenlock – Jaspers
131,000 Jamie Delo – Cuckoo Oak
128,000 Terry Dawson – Potters Bar
83,000 Jordan Ruff – Queslett
63,000 Paul Wilkes – Woolpack
44,000 Andrew Prinold – Beacon
44,000 Stephen Groves – Peaches
42,000 Ryan Vaughan – Merry Boys
18,000 Darren Richardson – Cleveland
A close 10 player final saw Ray Whitehead lead the way with 196,000 in chips. The first player out was Darren Richardson in 10th place with Andrew Prinold in 9th, Jordan Ruff 8th, Ryan Vaughan 7th, Stephen Groves 6th, Terry Dawson 5th, Jamie Delo 4th & Ray Whitehead 3rd. Our heads-up match saw Karl Wenlock battle Paul Wilkes, a heads-up match Paul Wilkes won as he became our new West Midlands One champion.