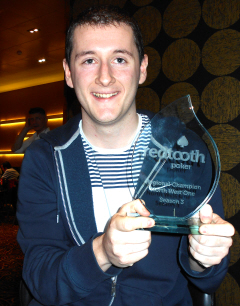 Results
1. Matthew Fletcher – Hunt Lane Tavern
2. Stuart Wraith – Black Swan
3. Katie Knowles – Lord Nelson
4. Dominic Turner – Royal Oak
5. Clair Bunce – Mulberry Tree
6. Gordon Entwistle – Talbot
7. Mike Yeo – George VI
8. David Frain – Carters Arms
The fabulous Grosvenor Casino in Manchester was the battlefield for the North West One regional final. With a trip to Las Vegas up for grabs the day was guaranteed to be a good one.
The first award was the team event trophy which was claimed by the George in Morecambe. Their representatives were Joe Strong, Fabian Jackel, Matthew Halfpenny & Scott Anderson.
Final Table Chip Counts
276,000 Matthew Fletcher – Hunt Lane Tavern
140,000 Mike Yeo – George VI
98,000 Stuart Wraith – Black Swan
92,000 Dominic Turner – Royal Oak
68,000 Gordon Entwistle – Talbot
55,000 Katie Knowles – Lord Nelson
35,000 Clair Bunce – Mulberry Tree
33,000 David Frain – Carters Arms
The final got underway with Matthew Fletcher holding a big chip lead with a stack of 276,000, making him a big favourite to take the title. Mike Yeo had a final to forget as he hit the rail in 7th place just after David Frain exited in 8th. Gordon Entwistle finished in 6th place with Clair Bunce 5th, Dominic Turner 4th & Katie Knowles 3rd. The final two players to contest the Vegas trip was Matthew Fletcher & Stuart Wraith with the other prize being £200 in cash. The winner was uncovered after Matthew Fletcher was dealt 4-5 to Stuart's A-2 with Stuart at risk. A flop of J-6-2 strengthened Stuart's hand but gave Matthew extra outs. An A on the turn improved Stuart's hand further until a 3 hit the river to make Matthew a straight. Congratulations Matthew Fletcher and we'll see you in Vegas!