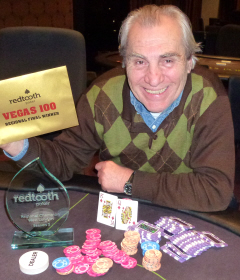 Results
1. Dragan Vukadinovic – Assembly Rooms
2. Jose Allessendro – Duke of Cambridge
3. John Whitehead – Thatched Cottage
4. Khalid Hussain – London Apprentice
5. Sancho Araujo – Raynes Park Tavern
6. Kirk Hawksworth – Five Bells
7. Steve Knight – Oaks
8. Steve Trotman – London Apprentice
The west side of London visited the Aspers Casino in London to battle for another trip to Las Vegas with 200 people hoping to emulate Glenn Pinch who won the trip from the East London final.
The Greene Man in Potters Bar claimed the team event trophy shortly before the final table. They were represented by Sarah Horrod, Mark Breem & Antonio Rochira.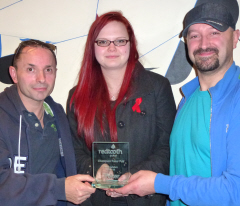 Final Table Chip Counts
217,000 Khalid Hussain – London Apprentice
173,000 Steve Knight – Oaks
108,000 Jose Allessendro – Duke of Cambridge
101,000 Kirk Hawksworth – Five Bells
97,000 Dragan Vukadinovic – Assembly Rooms
92,000 Sancho Araujo – Raynes Park Tavern
83,000 John Whitehead – Thatched Cottage
58,000 Paulo Ferrao – Chippenham Hotel
43,000 Steve Trotman – London Apprentice
22,000 Charlie Hillman – Bar Malden
Our West London final ended in dramatic style after we lost Charlie Hillman first in 10th place, then Paulo Ferrao followed in 9th, Steve Trotman in 8th, Steve Knight 7th, Kirk Hawksworth 6th, Sancho Araujo 5th & Khalid Hussain 4th. The final hand was soon upon us between Dragan Vukadinovic, Jose Allessendro & John Whitehead. Dragan tabled Kd-Qd, Jose 6h-6s and John 9d-10c. Neither player was expecting a 6d-Jd-7d flop as Dragan took the lead and with a K on the turn and a 10 river, Dragan's flush held over Jose's set to crown him our new West London champion.