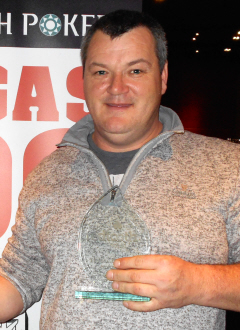 Results
1. Mark Keith – Queen Victoria
2. Jeff Watson – Travellers Rest
3. Mark Walsh – Owington Farm
4. Kevin Moriarty – Anson
5. Kevin Sams – Last Orders
6. Steven Wilson – Wheatsheaf
7. Ian Walker – South Beach Residence
8. Gary Jeffrey – DL5
Our North East final was hosted by the Grosvenor Casino in Newcastle. £500 would be awarded to the top finishers along with UK National Final seats, a team trophy and of course the trip to Las Vegas.
The team event trophy was won by the Last Orders in Blyth, the representatives from their Thursday league were Kieth Storey, Kevin Sams, James Taylor & Joy Cole.

Final Table Chip Counts
126,000 Kevin Sams – Last Orders
93,500 Jeff Watson – Travellers Rest
92,000 Gary Jeffrey – DL5
91,500 Steven Wilson – Wheatsheaf
84,000 Kevin Moriarty – Anson
60,500 Ian Walker – South Beach Residence
58,000 Mark Walsh – Owington Farm
53,000 Mark Keith – Queen Victoria
48,000 Declan Raine – Seaham Mill Inn
42,000 Matthew Watts – Wheatsheaf
Our 10 player North East final got underway with Kevin Sams leading the way after helping secure the team trophy. Declan Raine soon hit the rail in 10th place with Matthew Watts in 9th, Gary Jeffrey 8th, Ian Walker 7th, Steven Wilson 6th, Kevin Sams 5th, Kevin Moriarty 4th & Mark Walsh 3rd. The tournament came to a swift end after Mark Keith looked down on K-K & Jeff Watson seeing A-Q. A Q in the window gave Jeff some extra outs but couldn't improve further as Mark Keith took down the North East regional final.