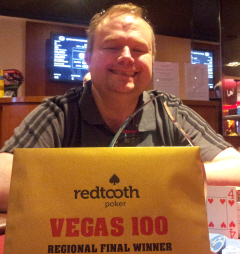 Results
1. Simon Baxter – Oyster Catcher
2. Christian Cristobal – Gate
3. Adam Reep – Grey Horse
4. David Carlisle – Podger
5. Adam Bamforth – Devon Hotel
6. Christine Thompson – Oyster Catcher
7. Patricia Cooper – Ainsty Hotel
8. Paul Brandon – Sun Inn
The Grosvenor in Leeds hosted another hugely successful West Yorkshire final where the day's winner would be invited onto the Las Vegas trip in 2014. The other excellent prizes that were on offer was £500 in cash to be shared, a crystal glass trophy for the best represented team and many UK National Final seats.
The first prize was the team event trophy which was won convincingly by the Oyster Catcher in Hull, they provided 2 finalists in Simon Baxter & Christine Thompson. Tracey Roberts & Neil Phillips also represented the venue.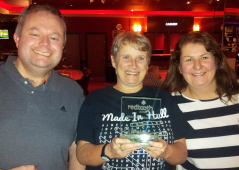 Final Table Chip Counts
130,000 Adam Bamforth – Devon Hotel
127,000 Christine Thompson – Oyster Catcher
119,000 Simon Baxter – Oyster Catcher
98,000 Paul Brandon – Sun Inn
91,000 Adam Reep – Grey Horse
74,000 Patricia Cooper – Ainsty Hotel
65,000 Christian Cristobal – Gate
59,000 David Carlisle – Podger
36,000 Hannah Swales – Black Bull
24,000 Alan Tate – Ring O Bells
Our final kicked off with Adam Bamforth leading the way on 130,000 in chips with 2013 Vegas 100 member Alan Tate being the short stack with 24,000 in chips. Unfortunately Alan couldn't make any inroads as he was eliminated in 10th place with Hannah Swales, also a short stack following Alan in 9th place. Paul Brandon was next to leave in 8th place with Patricia Cooper 7th, Christine Thompson 6th, Adam Bamforth 5th, David Carlisle 4th & Adam Reep 3rd. Adam's elimination left Simon Baxter and Christian Cristobal to contest the day's top prize, a contest that came to a swift end once Simon's 8-4 and Christian's 5-4 saw a 8-5-2 flop. The turn and river peeled off A-10 to crown Simon Baxter our new West Yorkshire champion.