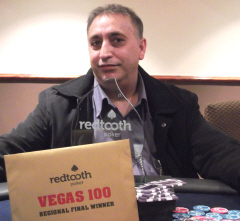 Results
1. Akbar Ghani – Halcyon
2. Daniel England – Eaton Farm
3. Mark Williams – Oadby Owl
4. Steve Robinson – Davy Lamp
5. Geoff Coy – Mackworth Hotel
6. Andrew Jankowski – Willow Tree
7. Ed Smith – Anglesey Arms
8. Grant Williams – Oadby Owl
Our East Midlands final was another to change to a new venue, the Grosvenor Casino in Nottingham. Our friendly Nottingham members took their seat with Las Vegas on the mind as shuffle up n deal was announced.
The team event came down to a 2-way battle between the Harrington Arms & Halcyon. With 4 top 20 finishers the Halcyon came out on top as they were well represented by regulars Ben Farrow, Akbar Ghani, Richard Kirby & Mick Skinner.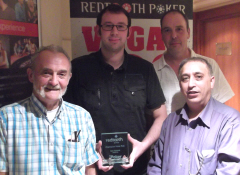 Final Table Chip Counts
172,000 Akbar Ghani – Halcyon
162,000 Mark Williams – Oadby Owl
82,000 Daniel England – Eaton Farm
78,000 Andrew Jankowski – Willow Tree
59,000 Geoff Coy – Mackworth Hotel
56,000 Damien Walters – Fox & Crown
56,000 Steve Robinson – Davy Lamp
29,000 Grant Williams – Oadby Owl
26,000 Ed Smith – Anglesey Arms
Our 9 player final kicked off with Akbar Ghani leading the way hoping for a Halcyon clean sweep. The first 3 to fall were Damien Walters, Grant Williams & Ed Smith in 9th, 8th & 7th place respectively. Then, after a long battle, Andrew Jankowski fell in 6th place to be followed by Vegas 100 member Geoff Coy 5th, Steve Robinson 4th & Mark Williams 3rd. The well fought heads-up battle was between chip leader Akbar Ghani & Daniel England, both with their eyes firmly fixed on the top prize. The clinching hand came when a pre-flop all-in left Daniel with only 3,000 in chips after his K-9 couldn't overtake Akbar's A-Q. The tournament was soon over as Aktar Ghani booked his seat on the flight to Las Vegas.