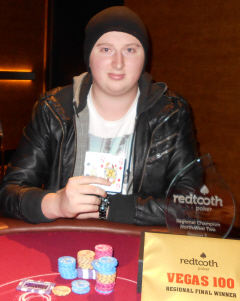 Results
1. Shaun Woodworth – Halfway House
2. Sam Davis – Village Hotel
3. Ray Birdsey – Blue Cap
4. Steve Craven – Grace Arms
5. Adrian Dearden – Cottage Loaf
6. Mark Mitchell – Lady Queen of Peace Social
7. Dominic Ford – Park Hotel
8. Noel Scott – Lion Hotel
Our re-arranged North West Two final took place in a new venue, the excellent Grosvenor Casino in New Brighton! One of our lucky members would be leaving with a ticket direct to Vegas! Plenty of other prizes were awarded like seven cash prizes and two trophies.
The first award was the team trophy which was hotly contested amongst the North West's finest. The Halfway House in Prenton came out on top. Congratulations to Gill Hall, Matthew Constable, Al Morris, Shaun Woodforth.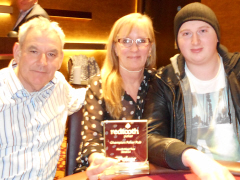 Final Table Chip Counts
65,000 Adrian Dearden – Cottage Loaf
58,000 Shaun Woodworth – Halfway House
57,000 Steve Craven – Grace Arms
56,000 Mark Mitchell – Lady Queen of Peace Social
56,000 Dominic Ford – Park Hotel
44,000 Noel Scott – Lion Hotel
28,000 Sam Davis – Village Hotel
27,000 Ray Birdsey – Blue Cap
21,000 Phil Clayton – Thatched House
15,000 Andy Scarth – Bromborough
A strong final table saw Adrian Dearden lead the way with 65,000 in chips but was closely followed by the team event winner Shaun Woodworth with 58,000 in chips. The first player eliminated was Andy Scarth in 10th place who was followed by Phil Clayton 9th, Noel Scott 8th, Dominic Ford 7th, Mark Mitchell 6th, Adrian Dearden 5th, Steve Craven 4th and Ray Birdsey 3rd. Our heads-up encounter came down to Sam Davis and Shaun Woodworth who was looking for a rare double after winning the team event for his pub. The poker gods looked to be shining on Shaun as he got his chips in with Q-Q to Sam's 6-6. A great flop of Q-4-8 all but sealed the win, a win which was confirmed when a 10 and a Jack peeled off on the turn and river. Congratulations Shaun!