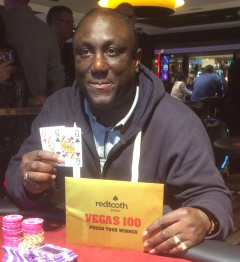 Results
1. Patrick Buchanan – Hunters Moon
2. Ben Bithell – New Club
3. Diane Docherty – Woodman
4. Laurence McGarrigle – King & Queen
5. Paul Haggart – Turks Head
6. John Attwater – Mudeford Mens Club
7. Joe Underwood – Metropolitan
8. Chris Kirby – Four Horseshoes
The penultimate leg of the Redtooth Poker Tour visited the Genting Casino in Reading, a venue that welcomed yet another sell out leg. With Redtooth's 7th year coming to an end time is beginning to run out for winning that much sought after trip to Las Vegas.
Final Table Chip Counts
259,000 Patrick Buchanan – Hunters Moon
203,000 Laurence McGarrigle – King & Queen
88,000 John Attwater – Mudeford Mens Club
86,000 Paul Haggart – Turks Head
82,000 Diane Docherty – Woodman
66,000 Ben Bithell – New Club
50,000 Oli Last – White Horse
35,000 Joe Underwood – Metropolitan
20,000 Chris Kirby – Four Horseshoes
The Final Hand
The final hand saw Brimingham's Patrick Buchanan go up against Oxford's Ben Bithell for the day's top prize. The final hand saw 2 pocket pairs dealt as Buchanan tabled Q-Q to Bithell's 4-4. The final board of the night ran off 2-K-3-6-7-7 to crown Patrick Buchanan our RPT: Reading champion.
The tour now moves further west and visits the fabulous Genting Casino in Torquay! Tickets are still available but selling out fast! You can get your ticket here