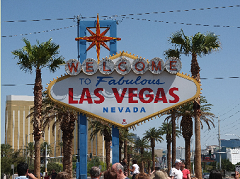 Sunday 2nd February sees Redtooth Poker enter it's 8th year in the pub poker industry and due to the huge popularity and continued growth of Vegas 100 over the past 2 years, we would like to take this opportunity to introduce Vegas 100 2014/15!
In 2012 we took pub poker to unprecedented heights by introducing Vegas 100, a concept taking the UK's top 100 pub poker players, which were found by regional and national qualifiers, to Las Vegas for a trip of a lifetime in 2013. Due to the MASSIVE success of the 2013 trip we decided to run Vegas 100 again throughout 2013 for another trip in 2014. So why change something that isn't broken? In 2015 we will be taking another 100 lucky Redtooth Poker members to the gambling capital of the world, Las Vegas.
From the start of our 8th poker year we have decided to introduce ADDED benefits to our treasured landlords AND players.
ADDED BENEFITS FOR PUB LANDLORDS
The UK Pub Poker Champion's pub will receive a year's FREE poker subscription. This is worth over £1,200 to the landlord!!
Redtooth Poker will be giving away two prize draw tickets per year to join the Las Vegas guest list. This is exclusive to pub landlords who have had one or more of their players qualify for the Vegas 100 trip. This will be drawn a week after the UK National Final so the venues of the 10 players who qualify from the UK National Final will also be included in this draw. This prize is transferable and, if the landlord wishes, can be used as a way to attract new players/customers into their pub. How many landlords can give away a trip to Las Vegas in their pub?
All pubs will receive four qualifiers through to the regional finals every season.
Pubs will now receive free cards for life. For as long as you remain in the Redtooth Poker league, you will receive one free pack of cards per month. These will be available to collect at the regional finals and are worth £45 per year. You will be sent a voucher every season which entitles you to three packs of Redtooth Poker playing cards. If you can't make the final yourself you are welcome to send your TD or a player to collect the cards on your behalf.

ADDED BENEFITS FOR PLAYERS
The league will continue as free for the players from your local to Las Vegas with over £250,000 of prizes awarded throughout the year.
As part of our new features the UK Pub Poker Champion™ will receive a £10,000 package broken down into a £5,000 Cash Prize and a £5,000 1 Year sponsorship package comprising of:
The UK Pub Poker Champion will have the chance to defend their title
Entrance into all 10 legs of the Redtooth Poker Tour – worth £255
Entrance into 1 GUKPT mid-season event – worth £550
Entrance into the GUKPT's Goliath event – worth £120
Entrance into 5 Poker Player Tour legs – worth £550
£50 spending money for all sponsorship events attended – worth £850
Custom branded clothing including hoodies, t-shirts and caps – worth £200
An invite to a night at the British Poker Awards in London with overnight accommodation – worth £500
Featured article in Poker Player magazine – worth £500
Potential sponsorship cash winnings of at least £350,000
With every Redtooth Poker venue now receiving four regional final qualifiers, players have an increased chance of hitting the heavy heights of Vegas 100.
THE REDTOOTH POKER TOUR

2014 will see the return of the popular Redtooth Poker Tour which will see an increased number of legs from 8 to 10! The poker tour will also see cash prizes awarded as well as the fantastic prize of a trip to Las Vegas. We have listened to player feedback once again and will be bringing the tour to brand new areas in some of Grosvenor's top casinos. Full details of the Redtooth Poker Tour will be issued over the next couple of months so watch this space!
VEGAS 100 ONLINE TOURNAMENTS
Also returning by popular demand are the Vegas 100 online tournaments. These will be spread out over the coming year and played on Grosvenor Poker's poker client. Again, details on the next tournament will be revealed soon.
We are confident our 8th year will easily be our biggest and best yet with the fantastic support our members always give us! We'll see you at the tables!