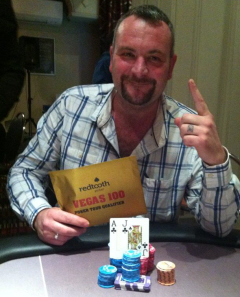 Results
1. Graham Riley – Sloop Inn
2. Carl Phelan – Royal Inn
3. Paul Stevens – Ship Inn
4. Terry Pitman – Queens Head
5. Les Parmenter – Royal British Legion
6. Peter Layland – Ship Inn
7. Christine Callegari – Brendan Arms
8. Robert Lewis – Green Dragon
The Genting Casino in Torquay brought the inaugural Redtooth Poker Tour to an end in style. The final tour ticket to Vegas would be awarded along with Redtooth Poker hoodies and UK National Final seats.
Final Table Chip Counts
128,000 Graham Riley – Sloop Inn
83,000 Les Parmenter – Royal British Legion
77,000 Carl Phelan – Royal Inn
55,000 Terry Pitman – Queens Head
43,000 Peter Layland – Ship Inn
41,000 Paul Stevens – Ship Inn
35,000 Tim Osborne – New Club
26,000 Glenn Brown – Woodman
24,000 Robert Lewis – Green Dragon
15,000 Christine Callegari – Brendan Arms
The Final Hand
The tournament came to an abrupt end when Graham Riley was dealt A-J to Carl Phelan's 4-4. A Jack in the window gave Riley a huge advantage, an advantage that only got bigger as the rest of the board ran off 8-7-9-9 to crown Graham Riley our RPT Torquay champion.
It was an interesting day for Graham who won his ticket into RPT Toquay at one of our regional finals. Starting the final table as the chip leader Graham soon lost his big stack going down to just 3,000 chips! Clearly with the poker gods shining brightly on Graham, he soon made a swift recovery going on to win the tournament and in-turn his trip to Las Vegas to join the Vegas 100. Well done Graham.