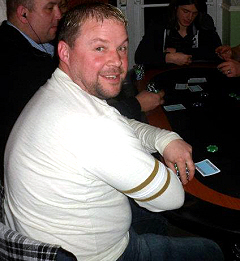 On Sunday 9th February Grosvenor Poker kindly hosted a huge online event in the shape of a Vegas 100 online tournament with a trip to Las Vegas up for grabs! The tournament attracted a little under 200 Redtooth Poker members, all with the same dream as the virtual cards were dealt at around 3pm!
A long 5 hour battle ensued with player after player seeing the much feared pop up of 'You have been eliminated in xx position. Thank you for playing!". The one player to escape the message of doom? Paul Harrison, a builder from Derbyshire. It was certainly a much deserved win for Paul as he has represented his local venue, the Mundy Arms in Heanor in several Redtooth Poker regional finals, helping the venue to 3 regional final team event titles.
Paul, with a well thought out alias of 'Asdfhfgjkl' hit the final with a chip stack of nearly 200k, 100k more than 2nd place and did a splendid job of rejoining the pack after only 3 hands. Harrison didn't let this sudden loss of chips affect his concentration as he powered back through the field to take the day's top prize, a trip to the gambling capital of the world, Las Vegas!
Congratulations Paul and we'll see you in Vegas!
There will be another Vegas 100 online tournament coming soon with another trip to Las Vegas up for grabs. Details will be posted on our website shortly.