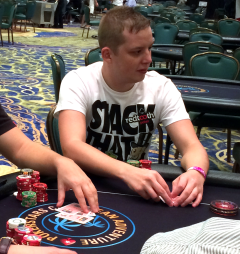 My Once-In-A-Lifetime trip to the PokerStars Caribbean Adventure (PCA) by Will Mason
As a keen poker player I attend the weekly Redtooth Poker league at my local, the Blyth Constitutional Club. I also occasionally play online and recently I was fortunate enough to win a place at the 2014 PCA in the Bahamas. This is my story.
I initially started my journey by qualifying through a PCA free-roll on PokerStars. This tournament typically has up to 25,000 competitors and to qualify for the second round i needed to finish in the top 500 which I easily achieved. The prize for qualifying from the second round was a $15,500 all inclusive package to the PCA main event at Nassau, Bahamas. I went into the next round with fingers and toes crossed and I never imagined I would win the entire tournament, but win I did, and my place at Nassau was confirmed with a $1,000 up front advance to pay for my flight.
My excitement was short lived and I was brought down to earth by my fiancé, Andrea, who said words to the effect "if you're going to the Bahamas, I'm coming too!" Although the prize included a double room at the exclusive Paradise Island resort, plus all expenses, it didn't cover me for taking a companion so I had to re-think my strategy. By this time word of my win had got around my club and I received a couple of sponsorship offers from fellow members. I am eternally grateful to these people, especially Stuart Robinson who offered to fund Andrea's trip plus other expenses on the basis that if I won he would receive a percentage of the winnings, but if I didn't win he would forego his investment.
Flights were subsequently booked and we were soon en route to Nassau via Amsterdam and Atlanta in early January 2014. This was the first long haul flight that either Andrea or myself had taken, and 2 flight changes made a long journey even longer but we were quite happy to regard this as part of the adventure. We eventually arrived at Nassau tired and weary but we couldn't wait to go out and explore the vast resort where the event was being held. This really was a millionaire's playground and we pondered who the luxury yachts in the harbour may belong to. We were eventually allocated our $440 a night room and we were immediately dazzled by the opulence and luxury of our surroundings. However, luxury like this didn't come cheap, and among other things we had to pay $150 for 6 days broadband access and the few drinks we had also cost an arm and a leg.
The tournament started on our second day at the resort and I settled into my allocated seat wondering who my fellow players were. One thing was for sure, I was a very small fish in a very big pond and I had to remind myself that these guys had paid serious money for their places at the tournament. Maybe they were the owners of those yachts moored in the harbour? One person who quickly became known to me was world renowned poker champion Eugene Katchalov who I had the misfortune to be sitting next to. Another player who came known to me was Shyam Srinivasan, who later went on to make the final table. The game proceeded well enough but it soon became apparent that some of my opponents were very aggressive players. Although I was being dealt some very promising cards, other players around the table held on with distinctly average cards and were lucky enough to hit trips on the flop when I had consistently very decent hands.
My final hand came down to a straight head to head against super cool Katchalov, with him being on my right it was a small blind vs big blind battle. Katchalov limped in so I happily checked pre-flop with my 6-9 off suit. A favourable flop of 9-10-6 hit the felt so I was sitting pretty with top and bottom pair. Katchalov, acting first, bet $900 into a $1,200 pot so after a moments thought I shoved my remaining $9k into the middle. Without much hesitation Katchalov called and tabled Q-10 for top pair, I was ahead, but could my hand hold up? A 5 peeled off on the turn so I was confident of a much welcomed double up. The river, however, was a different story as the dreaded Q hit to eliminate me from the tournament. I was gutted! On the whole, I was satisfied with my performance but I was still obviously disappointed to go out on Day 1 of the PCA. Still, there was no shame in being beaten by a player with Katchalov's credentials.
Over the next few days I played a few cash games, winning and losing in equal measure but overall enjoying the experience. Andrea meanwhile had intended to top up her sun tan but she was beset by a stomach bug and in any case there was quite a bit of rain so she spent most of her time indoors. We did, however, have plenty of time to look around the resort and the highlight of our trip was to swim with the dolphins. All too soon we were heading back to the UK but we had both been thrilled by the once in a lifetime experience.
This trip was made possible by PokerStars, who I would like to thank most sincerely for the opportunity to play the game I love on the world stage. I would also like to thank Redtooth who made a £100 contribution to my expenses. I met some great and interesting people and I reveled for a few days in luxury that most people can only dream about. Thanks again to my sponsor Stuart, and a big thank you also to "Granddad Ron" for looking after my daughter Kayleigh. I will certainly be trying my luck again in next year's tournament. They say lightning never strikes twice in the same place but somebody has to win, why shouldn't it be me? In the words of big Arnie "i'll be back!".