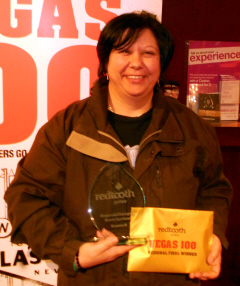 Results
1. Louise Holdaway – Zoar Inn, Forfar
2. Andrew Brown – Northern Bar, Aberdeen
3. Robert Grant – Dow's, Inverness
4. Mike Todd – Inperial Bar, Cupar
5. Stuart McCulloch – Argyll Hotel, Ullapool
6. Elleanor Donaldson – Club, Inverness
7. Steve Watson – Dow's, Inverness
8. Colin Tucker – Club, Inverness
The final round of regional finals were kicked off, as ever, by our much valued Scottish members. The north of Scotland were first up as their final trip to Vegas was awarded. Who would become the final member of the North Scotland gang'?
The team event was a close run contest between the Club in Inverness and the Dow's, also in Inverness. Both had 2 finalists on the day but that wasn't enough for the Dow's as the Club took home the team event thanks to Elleanor Donaldson, James Mcgilvray, Paul Bain & Colin Tucker.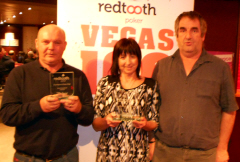 Final Table Chip Counts
77,000 Andrew Brown – Northern Bar, Aberdeen
75,000 Stuart McCulloch – Argyll Hotel, Ullapool
59,000 Mike Todd – Inperial Bar, Cupar
43,000 Colin Tucker – Club, Inverness
31,000 Louise Holdaway – Zoar Inn, Forfar
29,000 Steve Watson – Dow's, Inverness
23,000 James Mcgilvray – Club, Inverness
16,000 Elleanor Donaldson – Club, Inverness
16,000 Bill Cowan – Mither Tap, Aberdeen
11,000 Robert Grant – Dow's, Inverness
Andrew Brown led the way as the final got underway in Aberdeen. Short stack Robert Grant didn't give up his remaining chips lightly as he started making early in-roads. James Mcgilvray was the first player eliminated in 10th place with 'bubble boy' Bill Cowan crashing out in 9th. Colin Tucker finished in 8th place taking home the first cash prize of the day. Steve Watson exited in 7th place with Elleanor Donaldson 6th, Stuart McCulloch 5th, Mike Todd 4th and Robert Grant 3rd. Our intense heads-up encounter between Louise Holdaway & Andrew Brown finished with a car crash of a hand as Louise held Kc-Qs to Andrew's Ad-Jd. The chips soon flew in the middle as we saw a final board of 3s-2s-Js-Qc-7s to declare Louise Holdaway a much deserved winner. See you in Vegas!