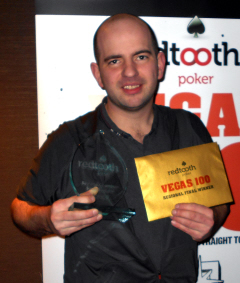 Results
1. Davie Marr – Old Brewery, Alloa
2. Giancarlo Fedi – IQue Cafe Bar, Glasgow
3. Stephen Maxwell – IQue Cafe Bar, Glasgow
4. Richard Martin – Viking Bar, Glasgow
5. George Young – Schiehallion, Aberfeldy
6. Del Horner – Pyramid Snooker Club, Kilmarnock
7. John Cochrane – Hopetoun, East Lothian
8. Scott Kirkbride – Gartocher, Glasgow
After the hugely successful North Scotland final, the south had their turn of trying to win their final trip to Vegas. The poker gods were shining on one of our South Scottish venues as they had a day to remember by making a clean sweep.
The first trophy to be awarded was the much sought after team event. The IQue Cafe Bar and Old Brewery went head to head for this as both venues brought 2 finalists to the table. The victors, however, were the Old Brewery in Alloa and they were represented by Jack Harper, Brian Young and Vegas 100 member Davie Marr.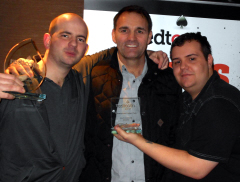 Final Table Chip Counts
91,000 Stephen Maxwell – IQue Cafe Bar, Glasgow
38,000 John Cochrane – Hopetoun, East Lothian
33,500 Del Horner – Pyramid Snooker Club, Kilmarnock
32,000 Giancarlo Fedi – IQue Cafe Bar, Glasgow
24,000 Davie Marr – Old Brewery, Alloa
17,500 George Young – Schiehallion, Aberfeldy
15,500 Scott Kirkbride – Gartocher, Glasgow
15,500 Andrew Harper – Old Brewery, Alloa
3,000 Ross McCartan – Wintergills, Glasgow
2,000 Richard Martin – Viking Bar, Glasgow
The final got under way with Ross McCartan & Richard Martin not even having a big blind between them. Unsurprisingly Ross was the first player out in 10th place but Richard had different ideas as he powered his way to 4th place. Once Stephen Maxwell had bubbled the heads-up match we were left with Giancarlo Fedi and Vegas 100 member Davie Marr in another IQue Cafe Bar vs. Old Brewery battle. Once again, the Old Brewery prevailed as Davie Marr's K-J held up against Giancarlo's 9-6 on a J-A-4-Q-7 board. Luckily for Davie he can play poker as well as he can drink! Watch out bars of Las Vegas Davie Marr is on his way!