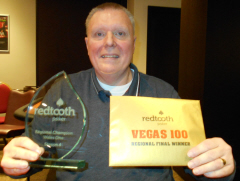 Results
1. Meirion Harries – Man of Gwent, Newport
2. Clyde Forde – Three Brewers, Cardiff
3. Andrew Pearce – Upper Cock Inn, Cwmbran
4. Ehren Hughes – Ferndale Hotel, Rhondda
5. Craig Colwill – Kings Arms, Caerphilly
6. Hayley Higgins – Railway Tavern, Risca
7. Gareth Thomas – Hollybush, Cardiff
8. Ben Shatford – Man of Gwent, Newport
Our Welsh contingent were warmly welcomed into the Grosvenor Casino in Cardiff. A fun day of value bets, bluffs & outdraws ensued as one of our venues made the clean sweep. A trip to Vegas went to the winner with cash prizes for 2nd-8th.
Our team event trophy had a clear winner in the Man of Gwent in Newport, their star players were Meirion Harries, Ben Shatford & Michael Kempson.
Final Table Chip Counts
114,000 Ehren Hughes – Ferndale Hotel, Rhondda
110,000 Andrew Pearce – Upper Cock Inn, Cwmbran
74,000 Ben Shatford – Man of Gwent, Newport
71,000 Clyde Forde – Three Brewers, Cardiff
62,000 Craig Colwill – Kings Arms, Caerphilly
49,000 Gareth Thomas – Hollybush, Cardiff
47,000 Michael Thomas – Gwerthoner Social Club, Gilsach Bargoed
22,000 Hayley Higgins – Railway Tavern, Risca
19,000 Meirion Harries – Man of Gwent, Newport
15,000 Alex Thomas – Kings Head, Chepstow
A 10 player final took their seats with Ehren Hughes chipped up on 114,000. Short stack Alex Thomas exited first in 10th place with Michael Thomas 9th, Ben Shatford 8th, Gareth Thomas 7th, Hayley Higgins 6th, Craig Colwill 5th, Ehren Hughes 4th & Andrew Pearce 3rd. Our heads-up encounter saw Meirion Harries and Clyde Forde play for the trip to Vegas with the other player receiving £200 for being the runner-up. The final hand saw Meirion have the best of it with A-9 to Clyde's J-10. The final board ran off 2-7-8-A-Q to crown Meirion Harries the new Wales regional final champion.