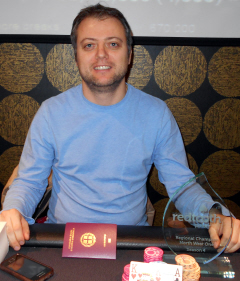 Results
1. Mariel Klimis – Oxfford, Macclesfield
2. Michael Rathmill – Fingerpost, Stockport
3. Adam Southworth – Spring Inn, Rochdale
4. Steve Jones – George VI, Atherton
5. Adam Hallshaw – Red Herring, Coppull
6. Richard Horrobin – Old Leyland Gates, Leyland
7. Martin Hall – Trimpell Sports & Social Club, Morecambe
8. Rachel Hughes – Wheatsheaf, Dunham on the Hill
The impressive Grosvenor Casino in Manchester hosted our first North West final of the season. Manchester and surrounding areas took to the felt for the day's top prize, a trip to Las Vegas. Cash prizes were also available as well as crystal glass trophies.
Our first award was the team event trophy which went to the best performing venue on the day. Although there were a few outstanding candidates, the Hoop & Mallet took this trophy back to Warrington. Congratulations to David Hughes, Paul Oldbury & Laszlo Meingast.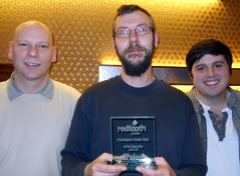 Final Table Chip Counts
138,000 Mariel Klimis – Oxfford, Macclesfield
133,000 Martin Hall – Trimpell Sports & Social Club, Morecambe
82,500 Michael Rathmill – Fingerpost, Stockport
80,000 Rachel Hughes – Wheatsheaf, Dunham on the Hill
68,000 Adam Southworth – Spring Inn, Rochdale
60,000 Richard Horrobin – Old Leyland Gates, Leyland
42,500 Steve Jones – George VI, Atherton
38,000 Clare Long – Brocklehurst Arms, Macclesfield
30,000 Adam Hallshaw – Red Herring, Coppull
Our 9 player final had a good mixture of players from various areas. Martin Hall had a final to forget as his 133,000 stack soon deserted him as he hit the rail in 7th place. Soon to follow was Richard Horrobin 6th, Adam Hallshaw 5th, Steve Jones 4th & Adam Southworth in 3rd. Heads-up saw Michael Rathmill and Mariel Klimis battle for a trip of a lifetime to Las Vegas. The final hand saw Mariel have much the better of it with A-K against Michael's K-Q with Michael at risk. A board of 10-2-2-3-5 was no help to Michael as Mariel Klimis from the Oxfford in Macclesfield became the North West One regional final champion.