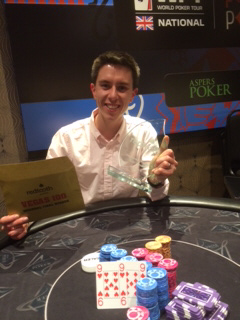 Results
1. Nick Reynolds – Robin Hood, Tunbridge Wells
2. Scott Hale – Village, Walthamstow
3. Brian Hope – Red Lion, Lindfield
4. Paul Dowson – Royal Oak, Caterham
5. Chris Hunt – Willow, Harlow
6. Paul Turner – Kicking Dickey, Dunmow
7. Tony Nelson – Kicking Dickey, Dunmow
8. Marc Thompson – Daylight Inn, Orpington
Stratford's magnificent Aspers Casino hosted our East London Final where nearly 300 players would battle for a trip to Las Vegas. There were also cash prizes and a crystal glass team trophy up for grabs.
The latter was the first to be settled as the Royal Oak in Caterham claimed that honour with TD Paul Dowson leading the way with a well deserved final table appearance. Ian Kitchen, Jimmy Axten & Michael Skudder also represented the venue.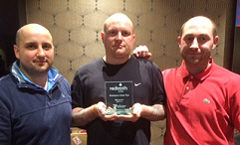 Final Table Chip Counts
260,000 Scott Hale – Village, Walthamstow
149,000 Chris Hunt – Willow, Harlow
145,000 Peter Okolte – St Johns Deaf Club, Highbury
124,000 Paul Turner – Kicking Dickey, Dunmow
115,000 Brian Hope – Red Lion, Lindfield
112,000 Tony Nelson – Kicking Dickey, Dunmow
86,000 Nick Reynolds – Robin Hood, Tunbridge Wells
75,000 Paul Dowson – Royal Oak, Caterham
70,000 Marc Thompson – Daylight Inn, Orpington
39,000 Neil Raja – George, Bexley
Our final kicked off with Chingford's Scott Hale leading the pack on 260,000 in chips. Neil Raja, the short stack, couldn't mount any sort of comeback as he left the tournament in 10th place. Neil was followed Peter Okolte in 9th, who did well to lose his 145,000 chips! Marc Thompson finished in 8th place with Tony Nelson 7th, Paul Turner 6th, Chris Hunt 5th, Paul Dowson 4th and Brian Hope in 3rd. Nick Reynolds and Scott Hale contested the trip to Las Vegas with a cool £200 going to the runner-up. The final hand was a close run encounter as Nick tabled 9-9 to Scott's Kc-7c on a 6h-Qc-9c board with Scott at risk. The final 2 cards were 2s-Jh to eliminate Scott from the tournament and crown Nick Reynolds our new East London regional final champion.