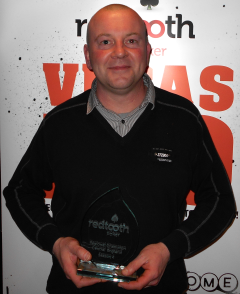 Results
1. Andy Walkden – Digswell Park Sports Association, Welwyn Garden City
2. Ryan McKeith – Burnt Oak, Milton Keynes
3. Paul Chittock – Greengage, Bury St. Edmunds
4. Ade Clark – Rushden Working Mens Club, Rushden
5. Claire Bailey – White Horse, Oxford
6. Antonio Almeida – New Club, Oxford
7. John Hudgell – White Horse, Oxford
8. Tom Harper – Corner House, Oxford
Luton's finest casino, the Grosvenor, hosted our Central England final for the 2nd time. A long but enjoyable day was had by all as the last Central England trip to Vegas was awarded along with the usual cash prizes and team trophy.
As always the first prize to be awarded was the team event trophy, this was comfortably won by the Kennington Sports & Social Club in Oxford. Their representatives were Jane Young, Steve Byrne, Sophie Clark & Anthony Faulkes.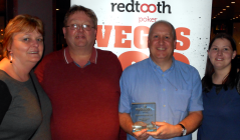 Final Table Chip Counts
165,000 Claire Bailey – White Horse, Oxford
144,000 Andy Walkden – Digswell Park Sports Association, Welwyn Garden City
129,000 Ade Clark – Rushden Working Mens Club, Rushden
106,000 Antonio Almeida – New Club, Oxford
95,000 Paul Chittock – Greengage, Bury St. Edmunds
91,000 Ryan McKeith – Burnt Oak, Milton Keynes
45,000 Ian Fall – Collingtree, Northampton
40,000 John Hudgell – White Horse, Oxford
21,000 Tom Harper – Corner House, Oxford
16,000 Martin Wing – Netherfield Tavern, Milton Keynes
Claire Bailey, the top performing lady on the day, started the final with the chip lead on 165,000 chips. Claire also claimed to have eliminated 22 players on her way to the final, must be some sort of pub poker world record if true! Anyway, Martin Wing was the first player to lose his stack, therefore, finishing in 10th place. Ian Fall soon followed in 9th with Tom Harper 8th, John Hudgell 7th, Antonio Almeida 6th, the (maybe) new world record holder Claire Bailey 5th, Ade Clark 4th & Paul Chittock 3rd. The marathon heads-up match which lasted over 1 hour was between Andy Walkden and Ryan McKeith. Eventually the tournament came to an end as a pre-flop all-in from Ryan with K-Q was met by a call from Andy's A-7. The board ran out J-9-3-A-4 to crown Andy Walken to new Central England champion!