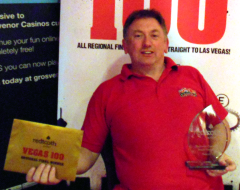 Results
1. Michael Carroll – Hasland Working Mens Club, Chesterfield
2. Nicholas Reading – Half Moon, Sheffield
3. Graham Carr – Three Magpies, Rotherham
4. Donna Jalam – Horse & Jockey, Rotherham
5. Adrian Fazakerley – Dusty Miller, Chesterfield
6. Adam Lond – Gamekeeper, Scotter
7. Daniel Gurnhill – Mosborough Miners Welfare, Mosborough
8. Steve Hanney – Alpine, Rotherham
Our UK National Final venue, the Grosvenor Casino in Sheffield, also hosted our South Yorkshire regional final. Nearly 200 players entered the casino with the hope of leaving with a trip to Las Vegas but only one person would be lucky enough to win such a fantastic prize.
Our first award of the day was the team trophy which saw familiar winners in the Brownlow Arms in Newark. The Brownlow Arms have now won this trophy no fewer than FOUR times! Congratulations on this occasion to Tom Beacham, Michael Snowden, Steve Winson and Karl Lambert.
Final Table Chip Counts
117,500 Donna Jalam – Horse & Jockey, Rotherham
111,000 Nicholas Reading – Half Moon, Sheffield
105,000 Adam Lond – Gamekeeper, Scotter
102,500 Michael Carroll – Hasland Working Mens Club, Chesterfield
96,500 Graham Carr – Three Magpies, Rotherham
65,500 Daniel Gurnhill – Mosborough Miners Welfare, Mosborough
64,000 Adrian Fazakerley – Dusty Miller, Chesterfield
41,500 Steve Winson – Brownlow Arms, Newark
40,000 Steve Hanney – Alpine, Rotherham
24,500 Carol Melton – Tut N Shive, Doncaster
Our 10 player final was led by Donna Jalam with 117,500 in chips. Short stack Carol Melton couldn't mount a comeback as she was the first player to exit the final in 10th place. Steve Winson finished 9th with Steve Hanney 8th, Daniel Gurnhill 7th, Adam Lond 6th, Adrian Fazakerley 5th, Donna Jalam 4th & Graham Carr 3rd. Michael Carroll and Nicholas Reading were left to battle for the day's top prize. A prize that was awarded to Michael Carroll as his J-J stood up against Nicholas's Q-7 on a A-4-K-8-6 board. Congratulations Michael.