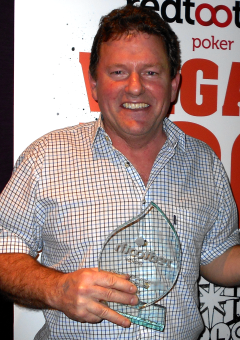 Results
1. Kevin Peters – Longs Arms, Yarnbrook
2. Will Slim – Royal Oak, Gloucester
3. Rachael De Grey – National Hunt, Cheltenham
4. Jane Fey – Plough, Kingswood
5. Craig Whitehouse – Tavern, Melksham
6. Jeff Humphries – Bell Inn, Yeovil
7. Rob Bennett – Old Inn, Weston-super-Mare
8. Simon Pike – Twelve Bells, Trowbridge
Our West Country members gathered in Bristol to battle for the latest trip to Vegas. £500 would also be awarded as cash as the total prize-pool for the day exceeded £1,500.
One of the first ever Redtooth Poker venues, the Royal Oak in Gloucester were recognised as the best performing venue. Well done to Mathew Davis, Maz Maszlag, Robbie Gray & Will Slim.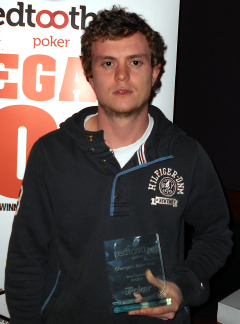 Final Table Chip Counts
95,000 Kevin Peters – Longs Arms, Yarnbrook
71,000 Jane Fey – Plough, Kingswood
64,000 Rachael De Grey – National Hunt, Cheltenham
61,000 James Harris – Farmhouse, Bristol
52,000 Rob Bennett – Old Inn, Weston-super-Mare
47,000 Jeff Humphries – Bell Inn, Yeovil
36,000 Craig Whitehouse – Tavern, Melksham
35,000 Will Slim – Royal Oak, Gloucester
34,000 Steve Taylor – Ebdon Arms, Weston-super-Mare
22,000 Simon Pike – Twelve Bells, Trowbridge
Our final of 10 players had a Vegas 100 2013 member in Robert Bennett. Vegas 100 2013 guest, Kevin Peters, led the way with a stack of 95,000. Steve Taylor hit the rail first in 10th place with James Harris in 9th, Simon Pike 8th, Rob Bennett 7th, Jeff Humphries 6th, Craig Whitehouse 5th, Jane Fey 4th & Rachael De Grey 3rd. Kevin Peters and Will Slim contested the day's to prize, a prize which Kevin claimed after his Q-J won the race against Will's 3-3 in a slightly unconventional way. The final board of the day ran off 6-6-6-2-6 to crown Kevin Peters our new West Country regional champion.