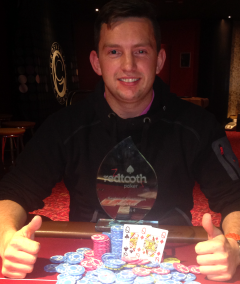 Results
1. Matthew Fishburn – Durham Ox, North Allerton
2. Alex Armstrong – Peregrine, Newcastle
3. Terry Telford – Peregrine, Newcastle
4. Eric Grosvenor – Commercial, Tantobie
5. Tom Ketley – Springfield Hotel, Darlington
6. Ian Walker – South Beach Residence, Blyth
7. Andrea Burglass – Blyth Constitutional Club, Blyth
8. Steven Major – Queen Victoria, Gosforth
Our North East final was played out at the Grosvenor Casino in Newcastle with over £1,500 worth of prizes up for grabs throughout the day.
The Isabella returned to the Redtooth Poker league in style as they claimed the team trophy. Well done to Andrew Self, Scott Jenkinson, Adam Douglass and Les Ogden.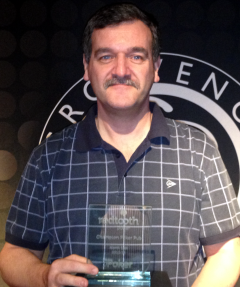 Final Table Chip Counts
102,500 Tom Ketley – Springfield Hotel, Darlington
89,500 Alex Armstrong – Peregrine, Newcastle
89,000 Eric Grosvenor – Commercial, Tantobie
79,500 Terry Telford – Peregrine, Newcastle
67,500 Steven Major – Queen Victoria, Gosforth
60,000 Matthew Fishburn – Durham Ox, North Allerton
48,500 Andrea Burglass – Blyth Constitutional Club, Blyth
41,500 Ian Walker – South Beach Residence, Blyth
The 8 player final saw Steven Major exit first in 8th place with Andrea Burglass 7th, Ian Walker 6th, Tom Ketley 5th, Eric Grosvenor 4th and Terry Telford 3rd. Matthew Fishburn and Alex Armstrong battled for the day's top prize, a trip to Las Vegas. The final hand saw chip leader Matthew in great shape as his Q-Q held a huge advantage over Alex's 6-6. The final board ran out 9-A-4-8-5 in Matthew's favour to make him the new North East regional champion.