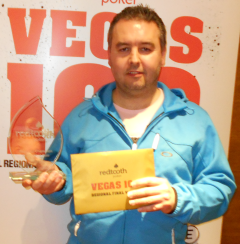 Results
1. Chris Yewdall – Park Hotel, Southport
2. Leigh Barber – Observatory, Widnes
3. Adriano Palumbo – Bromfield Arms, Chester
4. Gary Wildman – Swan Hotel, Birkenhead
5. Michael Kewley – Old Swan Conservative Club, Liverpool
6. Adrian Dearden – Cottage Loaf, Wirral
7. Jonny Kirkham – Albion, Blackpool
8. Alan Turner – Stag Inn, Wigan
One of our newest regional final venues, the Grosvenor Casino in New Brighton, welcomed our Merseyside members as over £1,500 worth of prizes were awarded.
The team event kicked off the day's prizes and saw a first time winner in the Thingwall Recreation Club. They had a finalist in Allyson Toomey with Daren Wilkinson, Michael Birch and Gary Doyle also representing the venue.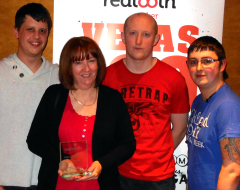 Final Table Chip Counts
92,000 Gary Wildman – Swan Hotel, Birkenhead
90,000 Jonny Kirkham – Albion, Blackpool
64,000 Alan Turner – Stag Inn, Wigan
58,000 Leigh Barber – Observatory, Widnes
45,000 Chris Yewdall – Park Hotel, Southport
36,000 Michael Kewley – Old Swan Conservative Club, Liverpool
36,000 Tony van Eker – Lever Club, Bebington
32,000 Adriano Palumbo – Bromfield Arms, Chester
32,000 Adrian Dearden – Cottage Loaf, Wirral
20,000Allyson Toomey – Thingwall Recreation Club, Thingwall
Our 10 player final had a couple of familiar names in Tony van Eker and Adrian Dearden but neither could make much headway into an all round tough final. The first player out was Allyson Toomey in 10th place, Tony van Eker hit the rail in 9th place with Alan Turner 8th, Jonny Kirkham 7th, Adrian Dearden 6th, Michael Kewley 5th, Gary Wildman 4th and Adriano Palumbo 3rd. Our heads-up encounter saw Chris Yewdall match up against Leigh Barber for the chance to win a trip of a lifetime to Las Vegas. The tournament came to an end once Chris was dealt 5-5 to Leigh's A-6 and with Leigh at risk and a board of 4-Q-Q-4-8 Leigh was eliminated making Chris Yewdall the new North West Two regional final champion.