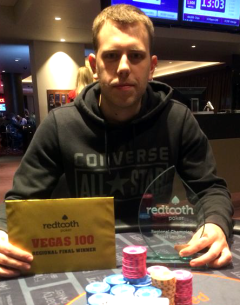 Results
1. Ben Naylor – Yates, Woking
2. Jose Allessendro – Duke of Cambridge, London
3. Martin Eagle – Oxted Inn, Oxted
4. Jim Axten – Jack & Jill, Coulsdon
5. Chris Bruerton – Bar at the George, Chalfont St Peter
6. Steve Barker – Plough & Furrow Inn, Smallfield
7. Lawrence Bobin – Ye Olde Smack, Essex
8. David Turvey – Prince, Crowthorne
Aspers in Stratford hosted a second regional final in the space of a few weeks, this time it was the turn of the West London regional final. A huge turnout took their seats with the hope of leaving the building with a trip to Las Vegas, worth over £1,000!
The first prize to be awarded was a crystal glass trophy for the best performing venue. This prize was awarded to the Duke of Cambridge in Battersea. They were represented by Jose Allesendro and Manolito Allessendro.
Final Table Chip Counts
308,000 Jose Allessendro – Duke of Cambridge, London
194,000 Chris Bruerton – Bar at the George, Chalfont St Peter
119,000 David Turvey – Prince, Crowthorne
60,000 Ben Naylor – Yates, Woking
60,000 Jim Axten – Jack & Jill, Coulsdon
56,000 Martin Eagle – Oxted Inn, Oxted
45,000 Steve Barker – Plough & Furrow Inn, Smallfield
33,000 Jared Jones – Kings Head, Ashford
26,000 Lawrence Bobin – Ye Olde Smack, Essex
26,000Kyle Mutimer – Narrow Boat, Newbury
2-time national finalist Jose Allessendro led the way with a comfortable 308,000 in chips with Kyle Mutimer propping up the field with a 26,000 short stack. Kyle was unsurprisingly eliminated in 10th place and it wasn't long before the rest started to follow. Jared Jones was next out in 9th place with David Turvey 8th, Lawrence Bobin 7th, Steve Barker 6th, Chris Bruerton 5th, Jim Axten 4th and Martin Eagle 3rd. Martin's elimination left Jose Allessendro and Ben Naylor to play for the trip to Las Vegas and £200 cash prize. The chips eventually went in when Jose's K-9 met Ben's K-J, and on a board of Q-3-4-3-5 and with Jose being at risk Ben Naylor was crowned the new West London champion.