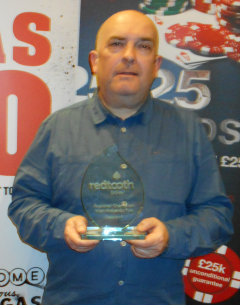 Results
1. Jim Kearney – Phantom Coach, Coventry
2. Craig Lockyear – Pillar of Salt, Droitwich
3. Justin Carey – Masons Arms, Solihull
4. Maria Edwards – Railway Inn, Hinkley
5. Marc Lines – Pillar of Salt, Droitwich
6. Keith Woodhead – Red Lion, Coventry
7. Tom O'Toole – Rose & Crown, Coventry
8. Dean Piper – Cedar Tree, Nuneaton
The fabulous Ricoh Arena in Coventry hosted our second West Midlands final as the Coventry and Birmingham areas fought for one of the final trips to Vegas.
Long time Redtooth Poker members, the Cedar Tree, took home the team event after 4 fine performances from Dean Piper, Martyn Everitt, Lisa Morgan and Ian Turner.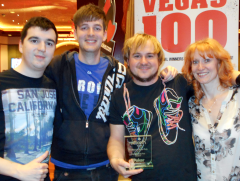 Final Table Chip Counts
190,000 Jim Kearney – Phantom Coach, Coventry
124,000 Justin Carey – Masons Arms, Solihull
119,000 Craig Lockyear – Pillar of Salt, Droitwich
109,000 Maria Edwards – Railway Inn, Hinkley
81,000 Tom O'Toole – Rose & Crown, Coventry
54,000 Keith Woodhead – Red Lion, Coventry
49,000 Marc Lines – Pillar of Salt, Droitwich
47,000 Steven Fox – Nugget, Coventry
33,000 Dean Piper – Cedar Tree, Nuneaton
17,000 Sam Twigg – Farthings, Birmingham
Jim Kearney led the way with 190,000 and seemed in no mood to relinquish his stack as he made huge strides towards the heads-up match. Sam Twigg was the first player eliminated in 10th place and was followed by Steven Fox in 9th, Dean Piper 8th, Tom O'Toole 7th, Keith Woodhead 6th, Marc Lines 5th, Maria Edwards 4th & Justin Corey 3rd. Our heads-up match was between Jim Kearney and Craig Lockyear, both desperate to secure that seat on the plane to Las Vegas. The final hand saw Jim table 6-2 to Craig's K-6 and with a board of J-6-Q-6-2 Jim took down to tournament to become the new West Midlands Two regional final champion.