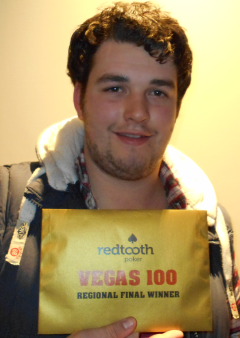 1. Josh Brunson – Cwrt Rawlin, Caerphilly
2. Macauley Evans – Mackintosh, Cardiff
3. Anthony Dyer – Birchgrove, Cardiff
4. Martin Stephens – Birchgrove, Cardiff
5. James Shephard – Welsh Oak, Newport
6. Katie Pruett – Barn Public House, Llantrisant
7. John Hindle – Gower Hotel, Cardiff
8. James Mayne – Welsh Oak, Newport
The Grosvenor Casino in Cardiff played host to our Wales regional final with all eyes now turning to our 2015 Vegas 100 trip. In attendance and fresh from our Vegas 100 2014 trip were John Ashcroft, Meirion Harries, Ryan Marshall & Lee Warman, all looking to get an immediate return to Las Vegas!
The team event was won by long time Redtooth members the Birchgrove in Cardiff. Congratulations to Lyndon Horton, Mike Chadwick and finalists Anthony Dyer, Martin Stephens who will take home the trophy.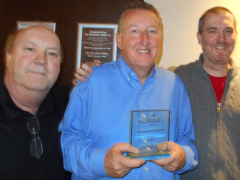 Final Table Chip Counts
182,000 Macauley Evans – Mackintosh, Cardiff
64,000 Katie Pruett – Barn Public House, Llantrisant
57,000 James Mayne – Welsh Oak, Newport
41,000 Anthony Dyer – Birchgrove, Cardiff
38,000 Martin Stephens – Birchgrove, Cardiff
37,000 Josh Brunson – Cwrt Rawlin, Caerphilly
37,000 Jack Evans – Two Brewers, Bridgend
33,000 Eddie Evans – Mackintosh, Cardiff
32,000 John Hindle – Gower Hotel, Cardiff
29,000 James Shephard – Welsh Oak, Newport
22,000 Mark Jeffrey – King William IV, Barry
An unusual 11 player final kicked off with Macauley Evans sat with a monster stack of 182,000, this meant the other 10 players were all relatively short stacked and on the look out for chips! The first player to leave the final was Jack Evans in 11th place. Jack was soon followed by Mark Jeffrey 10th, Eddie Evans 9th, James Mayne 8th, John Hindle 7th, Katie Pruett 6th, James Shephard 5th, Martin Stephens 4th & Anthony Dyer 3rd. Our first Wales heads-up encounter of the new year was between Josh Brunson & Macauley Evans, both eyeing up the trip to Las Vegas in 2015. In an unlikely final hand we had Josh Brunson flipping 6-5 to Macauley's 7-3 and with a board of K-J-2-6-Q, Josh Brunson (no relation to Doyle!) was crowned our new Wales regional final champion.