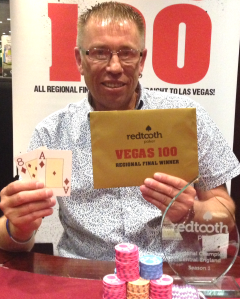 1. Ade Clark – Rushden WMC, Rushden
2. Tom Harper – Green Gate, Great Yarmouth
3. Ben Elliott – Golden Hind, Cambridge
4. Jamie Serplus – Moorhen, Peterborough
5. James Davis – Wheatsheaf, Rushden
6. Andrew Wood – Tudor Rose, Hemel Hempstead
7. Phil Knight – Kingsley Park WMC, Northampton
8. Grant Jones – Blackberry Jack, St Albans
Luton's fabulous Grosvenor Casino welcomed nearly 200 Redtooth members from the Central area, all looking to win the sought after trip to Las Vegas. We saw the welcomed return of Andy Moores, Michael Barnes & Andy Salisbury-Newman straight off the plane from Las Vegas!
The Monkfield Arms in Great Cambourne claimed the day's first award, the team event trophy. Their heroes were Loice McIlwain, Chris Brown, Giles Redgrave & Matthew Stepney.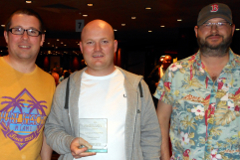 Final Table Chip Counts
145,000 Phil Knight – Kingsley Park WMC, Northampton
114,000 Jamie Serplus – Moorhen, Peterborough
108,000 James Davis – Wheatsheaf, Rushden
78,000 Ade Clark – Rushden WMC, Rushden
76,000 Andrew Wood – Tudor Rose, Hemel Hempstead
43,000 Tom Harper – Green Gate, Great Yarmouth
37,000 Grant Jones – Blackberry Jack, St Albans
36,000 Loice McIlwain – Monkfield Arms, Great Cambourne
35,000 Ben Elliott – Golden Hind, Cambridge
17,000 Bradley Galvin – Top of the World, Hemel Hempstead
Our final 10 included the previous weeks RPT Sheffield runner-up Ade Clark, who had a healthy stack of 78,000 with Phil Knight the big stack holding 145,000. The first player to be eliminated was short stack Bradley Galvin in 10th place, followed by Loice McIlwain 9th, Grant Jones 8th, Phil Knight 7th, Andrew Wood 6th, James Davis 5th, Jamie Serplus 4th & Ben Elliott 3rd. Tom Harper battled with Ade Clark for the day's top prize with a nice £200 going to the runner-up. The tournament soon came to an end as Ade Clark overcame Tom with A-8 on a 7-3-5-10-A board. Congratulations Ade Clark.