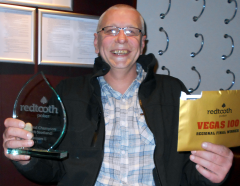 1. William Cressy – Mecca Bingo, Aberdeen
2. Richard Arnott – Ceres Inn, Ceres
3. Robert Grant – Pockets, Inverness
4. James Mann – Mither Tap, Aberdeen
5. Thomas Kettles – Rack & Cue, Dundee
6. Lynn Macintosh – Butchers Arms, Aberdeen
7. Jack Ford – Mither Tap, Aberdeen
8. John Roadley – Kitty Brewster, Aberdeen
The Grosvenor Casino in Aberdeen hosted our North Scotland regional final with another trip to Las Vegas being the days top prize! Fresh from Las Vegas looking to claim an immediate return was Richard Arnott, Lynn Macintosh, Greg Shiels & Louise Holdaway.
As at every regional final we recognize the days best performing venue, this prestigious award went to the Zoar Inn in Forfar with Donald Stewart, Louise Holdaway, Valerie Ferrie and John Stewart taking a crystal glass trophy back to the pub.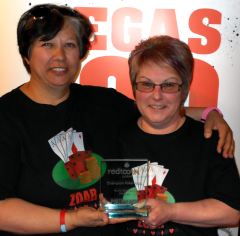 Final Table Chip Counts
99,000 Richard Arnott – Ceres Inn, Ceres
52,000 John Roadley – Kitty Brewster, Aberdeen
44,000 John Stewart – Zoar Inn, Forfar
41,000 James Mann – Mither Tap, Aberdeen
39,000 Thomas Kettles – Rack & Cue, Dundee
31,000 Robert Grant – Pockets, Inverness
26,000 Brian Buchan – Butchers Arms, Aberdeen
25,000 William Cressy – Mecca Bingo, Aberdeen
16,000 Jack Ford – Mither Tap, Aberdeen
13,000 Lynn Macintosh – Butchers Arms, Aberdeen
Our final 10 players had a few familiar names with 2-time Vegas qualifier Richard Arnott holding the chip lead with 99,000 in chips and fellow 2014 Vegas 100 member Lynn Macintosh the short stack on just 13,000 chips. Our 10th place finisher was team event winner John Stewart with Brian Buchan in 9th, both just missing out on a cash prize. John Roadley exited in 8th place with Jack Ford 7th, Lynn Macintosh 6th, Thomas Kettles 5th, James Mann 4th and Robert Grant 3rd. Our heads-up match saw the relentless Richard Arnott looking for his 3rd regional final title and 3rd Vegas trip against William Cressy from a debut venue Mecca Bingo in Aberdeen. The final hand saw William in great shape holding A-9 to Richard's 9-8 who was at risk. The final board couldn't help Richard as it ran out 4-Q-6-6-Q to crown William Cressy the new North Scotland champion.