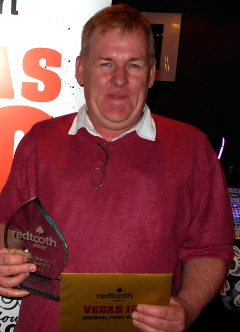 1. Joe Hutchinson Jnr – IQue Cafe Bar & Cue Sports, Glasgow
2. Michael Dearie – Barrachnie Inn, Glasgow
3. Brenda McNeish – Hopetoun, East Lothian
4. Gary Ross – Pyramid Snooker Club, Kilmarnock
5. Callum McNab – Old Racecourse Hotel, Ayr
6. Graham Fulton – Hopetoun, East Lothian
7. Colin Reid – Queens Retreat, Edinburgh
8. Jim Morrison – Gartocher, Glasgow
The Grosvenor Casino in Edinburgh was the host of our South Scotland regional final on this occasion. The tournament saw a near perfect turn-out as the latest trip to Las Vegas was awarded to the days lucky winner. The region saw Davie Marr and Craig McLuckie return straight from Las Vegas looking to book their ticket straight back there.
The Pyramid Snooker Club in Kilmarnock just pipped East Lothians Hopetoun to the team event title. Ian Schaffer, Gary Ross & Ivy Wood represented the club.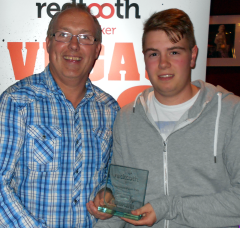 Final Table Chip Counts
51,500 Joe Hutchinson Jnr – IQue Cafe Bar & Cue Sports, Glasgow
49,000 Brenda McNeish – Hopetoun, East Lothian
49,000 Graham Fulton – Hopetoun, East Lothian
41,000 Callum McNab – Old Racecourse Hotel, Ayr
36,000 Michael Dearie – Barrachnie Inn, Glasgow
30,500 Gary Ross – Pyramid Snooker Club, Kilmarnock
21,000 Colin Reid – Queens Retreat, Edinburgh
14,500 Jim Gallen – Wintergills, Glasgow
6,500 Jim Morrison – Gartocher, Glasgow
4,500 Eddie Hopkinson – Royal, Edinburgh
The 10 player final had Joe Hutchinson Jnr as the big stack nursing 51,500 chips. Our 10th place finisher was Eddie Hopkinson who was followed by Jim Gallen 9th, Jim Morrison 8th, Colin Reid 7th, Graham Fulton 6th, Callam McNab 5th, Gary Ross 4th & Brenda McNeish 3rd. Our heads-up encounter was a battle between two Glaswegians in Michael Dearie and Joe Hutchinson Jnr, it was an encounter Joe Hutchinson Jnr won as his J-J was well and truly dominating Michael's 5-2. A final board of K-Q-10-8-Q only confirmed Joe Hutchinson Jnr as our new South Scotland regional final champion!