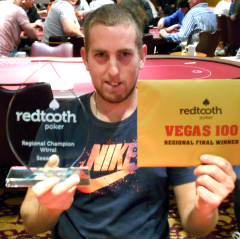 1. Phillip Meadows – Park Hotel, Southport
2. Carl Boyd – Bromborough, Wirral
3. Dave Pudman – Cottage Loaf, Wirral
4. Jamie Cooney – Old Swan Conservative Club, Liverpool
5. Graeme Hunter – White Lion, Buckley
6. Stuart Jones – Stag Inn, Wigan
7. Mandy Wilding – Stag Inn, Wigan
8. Marjory Ritson – Swan Hotel, Prenton
Our Wirral regional final was played in the Grosvenor Casino in New Brighton. This fabulous area and casino welcomed over 100 players as the battle to reach the Vegas 100 2015 trip got underway. Over £1,500 worth of prizes were awarded in total to our players.
The first prize was the very elegant team event crystal glass trophy. Two venues went close to picking up this award but even with two finalists, the Stag Inn in Wigan just missed out to the Bromborough in the Wirral who had very consistent performers in Karl Jones, Andy Harper, Shaun Courtney & finalist Carl Boyd.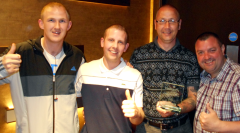 Final Table Chip Counts
131,000 Jamie Cooney – Old Swan Conservative Club, Liverpool
124,000 Phillip Meadows – Park Hotel, Southport
77,000 Graeme Hunter – White Lion, Buckley
67,000 Carl Boyd – Bromborough, Wirral
49,000 Dave Hawkins – Old Custom House, Chester
35,000 Donna Stanton – Old Custom House, Chester
35,000 Dave Pudman – Cottage Loaf, Wirral
28,000 Mandy Wilding – Stag Inn, Wigan
17,000 Marjory Ritson – Swan Hotel, Prenton
5,000 Stuart Jones – Stag Inn, Wigan
Our final table of 10 was one to forgot for the 2 players from the Old Custom House in Chester as Donna Stanton (10th) and Dave Hawkins (9th) were the first 2 players out, therefore, just missing out on the days prizes. Marjory Ritson was eliminated in 8th with Mandy Wilding 7th, Stuart Jones 6th, Graeme Hunter 5th, Jamie Cooney 4th & after many successful attempts at doubling up, Dave Pudman finished in 3rd place. Heads-up saw Carl Boyd against Phillip Meadows who had held a healthy stack for most of the tournament. The 20 minute heads-up battle came to an end once Phillip Meadows saw A-10 and Carl Q-J with a pre-flop all-in and call soon to follow. A board of 2-A-2-9-6 came down to crown Phillip Meadows our Wirral regional champion and latest Las Vegas qualifier.