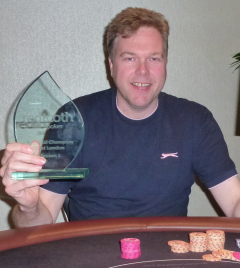 1. Terry Prett – View, Croydon
2. Nick Dennis – Jolly Fenman, Sidcup
3. Jenny Kuhn – Windsor, Fenchurch
4. Darren Burke – Swan, Brentwood
5. Ronnie Rodwell – Red Barn, Bexley Heath
6. Jimmy Richards – St Johns Deaf Club, London
7. Marcin Ciach – Lord Palmerston, Walthamstow
8. Dean Taylor – King Canute, Canvey Island
A brand new venue hosted our East London regional final, The Poker Room on Edgware Road, part of the Vic Casino in London. Not only was a trip to Las Vegas awarded to the days winner, there was also a share of £500 in cash, 2 crystal glass trophies up for grabs and also a visit from one of the UK's top female poker players, Liv Boeree.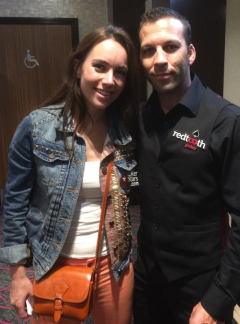 But just as big as Livs visit was our team event contest! On this occasion the Odd Shoe in Croydon picked up this prestigious award. Congratulations to Donna Lacey, Charles Burrows, Sam Edmonds & Stuart Jeffreys.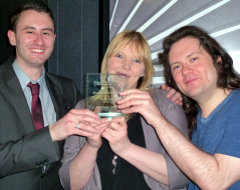 Final Table Chip Counts
183,000 Terry Prett – View, Croydon
160,000 Nick Dennis – Jolly Fenman, Sidcup
159,000 Ronnie Rodwell – Red Barn, Bexley Heath
154,000 Jenny Kuhn – Windsor, Fenchurch
142,000 Marcin Ciach – Lord Palmerston, Walthamstow
90,000 Darren Burke – Swan, Brentwood
90,000 Dean Taylor – King Canute, Canvey Island
59,000 Beg Lugman – Beehive, Ilford
44,000 Jimmy Richards – St Johns Deaf Club, London
7,000 Charlie Burrows – Odd Shoe, Croydon
In a final table that went to form for the top 2 players at least, short stack Charles Burrows couldn't add to his 7,000 stack as he was eliminated in 10th place. Beg Lugman then finished in 9th with Dean Taylor 8th, Marcin Ciach 7th, Jimmy Richards 6th, Ronnie Rodwell 5th, Darren Burke 4th & Jenny Kuhn 3rd. The 2 big stacks then battled for over £1,000 worth of prizes combined with Terry Prett going up against Nick Dennis. The final hand saw Terry with A-K to Nick's 2-3 with Nick at risk. Terry was confirmed champion after a board of Q-7-4-A-Q.